Koh Mook Charlie Beach Resort
164 Moo 2, Koh Mook, A. Kantang, Trang, 92110 (27 Xem lại)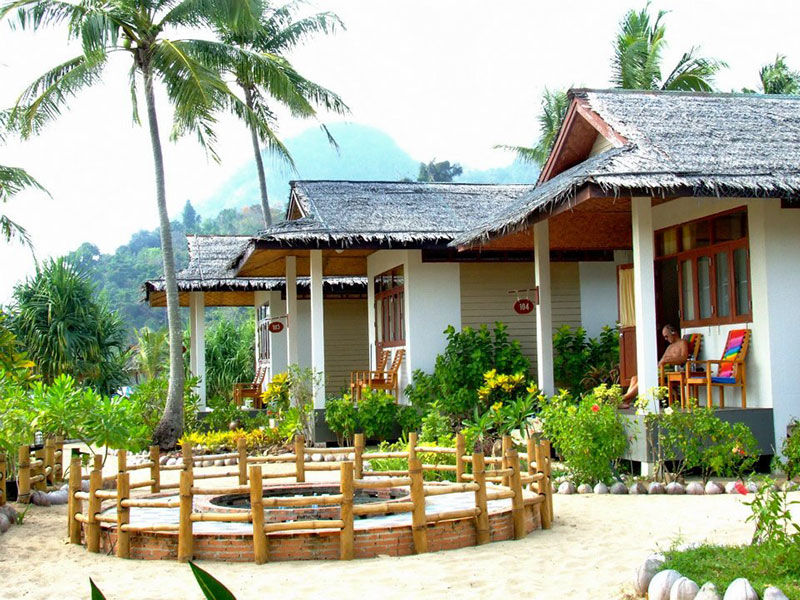 Khách nói gì?:
9.8
"nice locaton, lovely room but less of menu at restaurant"
Pilada
9.6
"There's a great location and lovely staff. "
Liv Lange Rohrer
9.2
"We will come back to Charlie beach hotell. Thank you for a wounderful week!!"
Margareta Johansson
9
"We stayed in a bungalow was smallish but nice. Beautiful private beach"
Remo
8.8
"Best option on the island since it's comfortabe."
Magarette
Xem chi tiết
Koh Mook Charlie Beach Resort nằm ở phía tây của Koh Mook, đáng chú ý với bãi biển cát trắng, phong cảnh nhiệt đới bao quanh, nước tinh thể rõ ràng với bộ bầu khí quyển mặt trời. Koh Mook Charlie Beach cung cấp một loạt các ngôi nhà gỗ, một số được làm từ tre. Được trang bị với quạt hoặc điều hòa không khí, tất cả đều đi kèm với một cái tủ lạnh. Phòng tắm được chia sẻ hoặc tư n hân, và được trang bị với các tiện nghi vòi hoa sen. đọc thêm..
Tiện nghi
Tiện nghi
thiết bị cho người tàn tật
thang máy
điều hành sàn
phòng gia đình
phòng họp
nhà hàng
két sắt
dịch vụ làm đẹp
cửa hàng
phòng hút thuốc
xe công viên
Thể thao và Giải Trí
quán bar
cho thuê xe đạp
quán cà phê
câu lạc bộ đêm
quán bar cạnh bể bơi
vườn
sân gôn (tại chỗ)
thiết bị tập thể dục
bể bơi trong nhà
bể sục
câu lạc bộ trẻ em
mát xa
bể bơi ngoài trời
bể bơi (trẻ em)
tắm hơi
spa
sân chơi squash
hơi nước phòng
sân tennis
casino
Dịch vụ
dịch vụ phòng 24 giờ
đưa đón khách sạn/sân bay
dịch vụ trông trẻ
trung tâm thương mại
người vận chuyển hành lý
dịch vụ giặt là/giặt khô
con vật cưng cho phép
dịch vụ du lịch
Wi-Fi ở khu vực công cộng
truy cập internet có dây (miễn phí)
truy cập internet có dây (tính phí)
truy cập internet không dây (miễn phí)
Dịch vụ phòng
cái nôi em bé
Khách hàng Nhận xét
อัศณีย์..
(khác)
30 December 2014
ห้องพักสะดวก สบายเหมาะกับราคา เงียบสงบ ติดชายหาด เหมาะกับทั้งเที่ยวเป็นกลุ่มกับเพื่อน หรือฮันนีมูน
Martin
(cặp vợ chồng)
1 April 2014
Very relaxing, good buffet breakfast,Cleaning and new towels every day.
Karlsson Mats
(cặp vợ chồng)
1 April 2014
The hotel is good location and staff is very good service. The food is very fantastic.
Joanna Zeppelin
(cặp vợ chồng)
31 March 2014
Very nice resort, cheap and Lovely garden, near everything! Big pool and 1 recommended this resort! Good food and nice staff!
Sandra Nilsson
(Độc chiếm)
10 March 2014
We got to stay in a bamboo instead. Then we didn't get any wifi on the entire stay and no one could help us fix it so didn't get what we paid for. And I got really sick from the food one day.
Lars Birkholm
(cặp vợ chồng)
31 January 2014
big resort with a lovely beach.
Jens fast
(cặp vợ chồng)
20 January 2014
We had some very nice days at Koh Mook, We arrived by ferry and were happy that our resort was a few steps away, Charlie Beach has the best location on the beach. We enjoyed the pool, the beach, the lunch bar at the beach and the nice restaurant sitting with your feet in the sand. Emerald cave was a fasinating nature adventure.
Pichapa
(cặp vợ chồng)
1 August 2013
โดยรวมๆ พึงพอใจมาก อยากกลับไปเที่ยวอีก อากาศดี โรแมนติก
Pilada
(cặp vợ chồng)
1 August 2013
nice locaton, lovely room but less of menu at restaurant
Remo
(cặp vợ chồng)
29 April 2013
We stayed in a bungalow was smallish but nice. Beautiful private beach
đọc thêm