Thong Ta Resort & Spa
1894 Ladkrabang Road, Ladkrabang, Bangkok, 10520 (2 Review)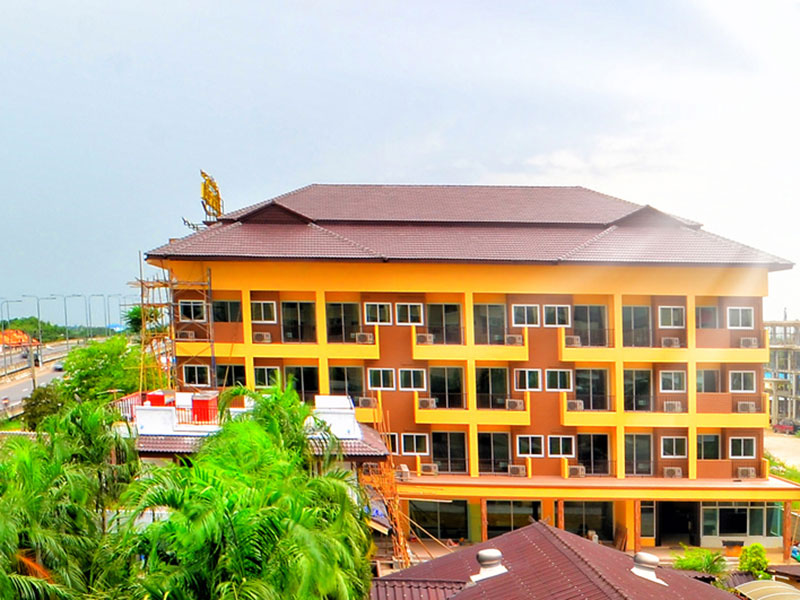 What are the Guests saying?:
8
"ที่พักโอเคค่ะ สะดวกสบาย ตอนจองเป็นราคาโปรเลยไม่มีอาหารเช้าแต่ว่า ที่นี่ห้องพักรวมค่ารถรับส่งสนามบินให้แล้ว ก็ถือว่า service ดีค่ะ สะดวกต่อการขึ้นเครื่องด้วยเพราะออกเช้ามาก"
Kanlayanee
8
"ห้องพักสะอาด สะดวกสบาย โรงแรมสะอาดดี โดยรวมถือว่าโอเค"
Nanthapon
Detail
Thong Ta Resort and Spa Bangkok ligger i Lad Krabang Road. Varje rum är väl utrustade med privat balkong, komplett utbud av bekvämligheter, inklusive luftkonditionering, varm och kall dusch, kabel-TV, telefon, minibar och 24 timmars room service.
Facilities
Amenities
handikappanpassat
hiss
executive floor
familjerum
möteslokaler
restaurang
kassaskåp i rummet
salong
butiker
rökrummet
parkering
Sport and Recreation
bar / pub
cykeluthyrning
coffee Shop
nattklubb
bar vid poolen
trädgård
golfbana (på plats)
gym
inomhuspool
jacuzzi
kids club
massage
utomhuspool
bassäng (för barn)
bastu
spa
squashbanor
ångbastu
tennisbanor
kasino
Services
24h rumsservice
flygplatstransfer
barnvakt
affärscentrum
concierge
tvättservice / kemtvätt
tours
Wi-Fi i allmänna utrymmen
Internet - LAN
Internet - LAN (avgifter)
Internet - trådlös (kostnadsfritt)
room service
barnsäng
Customer Reviews
Nanthapon
(Single Occupancy)
(8)
19 February 2020
ห้องพักสะอาด สะดวกสบาย โรงแรมสะอาดดี โดยรวมถือว่าโอเค
Kanlayanee
(Business Travelers)
(8)
19 September 2015
ที่พักโอเคค่ะ สะดวกสบาย ตอนจองเป็นราคาโปรเลยไม่มีอาหารเช้าแต่ว่า ที่นี่ห้องพักรวมค่ารถรับส่งสนามบินให้แล้ว ก็ถือว่า service ดีค่ะ สะดวกต่อการขึ้นเครื่องด้วยเพราะออกเช้ามาก