P.P. Palm Tree Resort
129 Moo 7 T. Aonang A. Muang, Krabi, 81000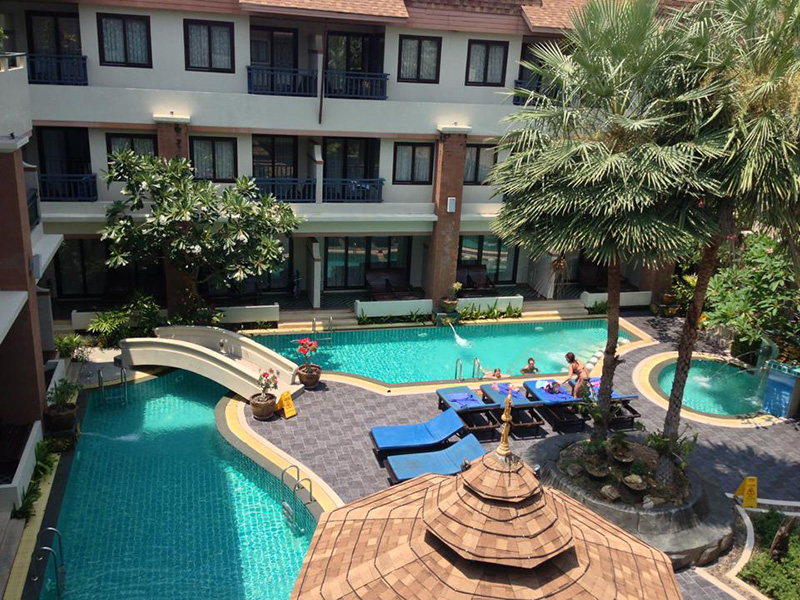 What are the Guests saying?:
10
" Perfect! Everthing was good!!"
Bowman
9.8
"Everything was perfect! The resort was splendid!"
Barbara Smet
Cristina Ionescu
9.4
"Was unhappy about not being allowed to bring a guest back at night. Other than that I was very happy with staff and facilities."
David Malone
9.4
"Perfect! The location of the hotel is good. Staff is so friendly."
Cristina
Detail
PP Palm Tree Resort är en modern resort som ligger i mitten av ön. Anläggningen erbjuder komplett utbud av bekvämligheter och faciliteter för alla gäster 40 rum med tre stora rum typer är DeluxeRoom, PoolAccessRoom och PalmTreeSuite.

Facilities
Amenities
handikappanpassat
hiss
executive floor
familjerum
möteslokaler
restaurang
kassaskåp i rummet
salong
butiker
rökrummet
parkering
Sport and Recreation
bar / pub
cykeluthyrning
coffee Shop
nattklubb
bar vid poolen
trädgård
golfbana (på plats)
gym
inomhuspool
jacuzzi
kids club
massage
utomhuspool
bassäng (för barn)
bastu
spa
squashbanor
ångbastu
tennisbanor
kasino
Services
24h rumsservice
flygplatstransfer
barnvakt
affärscentrum
concierge
tvättservice / kemtvätt
husdjur
tours
Wi-Fi i allmänna utrymmen
Internet - LAN
Internet - LAN (avgifter)
Internet - trådlös (kostnadsfritt)
room service
barnsäng
Customer Reviews
Stephane Kovatchev
(Couples)
31 August 2015
would recommend, lovely hotel !
Jillian Sharples
(Couples)
31 August 2015
The only major downfall to my stay was the bedbugs in my room. Other than that everything was great and the staff were extremely polite, helpful, and kind.
Bhupinder Purewal
(Couples)
2 February 2015
Great stay here. I will definately be staying on my next trip.
Irina Hossu
(Others)
1 November 2014
rooms are very modern and clean.
Nicholas Tomlinson
(Couples)
2 September 2014
This hotel was good value for money. The rooms were nice, good size, clean. The pool was a nice size considering the size of the hotel and also clean.
Leelawadee
(Others)
1 May 2014
ห้องพักและบริเวณโรงแรมสะอาด สะดวกสบายหรูหรา อยู่ในแหล่งชุมชนจึงสามารถเดินไปเที่ยวตลาด ไปชายหาดโละดาลัม ซื้อทัวร์ ไปจุดชมวิว และร้านอาหารได้สบายๆ
Yaara Raski
(Couples)
1 May 2014
The rooms look newly conditioned and the hotel pool is very nice and clean. Service staff are not so freiendly and don't seems to understand english.
Huw Crwys-Williams
(Couples)
1 May 2014
this is a good hotel option in phi phi, clean, spacious, nice service.
Uzi Zaray
(Couples)
31 March 2014
nice balcony giving on the swimming pool,
ANTON WENTZEL
(Others)
31 March 2014
very good hotel. Nice rooms and pool.
read more