Pai Hotspring
84-84/1 Moo 2, T. Mae Hee, A. Pai, Maehongson, 58130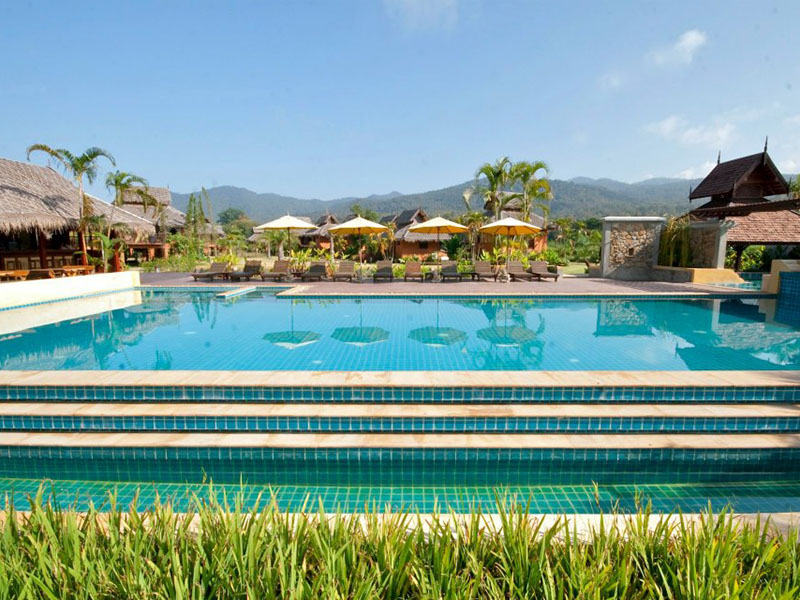 What are the Guests saying?:
"ได้ไปพักมาเมื่อ ต.ค. 52 ที่ห้อง Chalet Mountain View ห้องปรับปรุงใหม่สวยหรูสะดวกสบายทีวีจอแบบ มีอ่างน้ำหน้าระเบียงด้วย แต่เปิดโล่งมากไป ไม่ค่อยส่วนตัวเท่าไร ติดใจตรงบรรยากาศท้องทุ่งที่นี่"
Jirapong
"รีสอร์ทสวย บริการดีมาก บรรยากาศก็ดี มีโอกาสหน้าจะกลับไปพักอีก"
สุภาวดี
"ไปพักช่วงปีใหม่ อากาศเย็นๆ มีบ่อน้ำร้อนให้แช่น้ำอุ่นๆสบายตัวจริงๆ โดยเฉพาะอากาศยามเช้าเย็นสดชื่น ที่พักสะอาด"
Pawinee
Hotel Info
Pai Hotspring Spa Resort erbjuder Hotspring offentliga pooler och övernattning rum med mineralvatten källvatten leds in i varje badrum. Våra gäster kan njuta av blötläggning i privata rum badkar eller i offentliga pooler. Alla Hotspring bad har moderna faciliteter och underbart tjänster.
Facilities
Amenities
handikappanpassat
hiss
executive floor
familjerum
möteslokaler
restaurang
kassaskåp i rummet
salong
butiker
rökrummet
parkering
Sport and Recreation
bar / pub
cykeluthyrning
coffee Shop
nattklubb
bar vid poolen
trädgård
golfbana (på plats)
gym
inomhuspool
jacuzzi
kids club
massage
utomhuspool
bassäng (för barn)
bastu
spa
squashbanor
ångbastu
tennisbanor
kasino
Services
24h rumsservice
flygplatstransfer
barnvakt
affärscentrum
concierge
tvättservice / kemtvätt
husdjur
tours
Wi-Fi i allmänna utrymmen
Internet - LAN
Internet - LAN (avgifter)
Internet - trådlös (kostnadsfritt)
room service
barnsäng
Customer Reviews
สุภาวดี..
(Single Occupancy)
2 February 2014
รีสอร์ทสวย บริการดีมาก บรรยากาศก็ดี มีโอกาสหน้าจะกลับไปพักอีก
Pawinee
(Others)
19 August 2011
ไปพักช่วงปีใหม่ อากาศเย็นๆ มีบ่อน้ำร้อนให้แช่น้ำอุ่นๆสบายตัวจริงๆ โดยเฉพาะอากาศยามเช้าเย็นสดชื่น ที่พักสะอาด
Jirapong
(Others)
16 August 2011
ได้ไปพักมาเมื่อ ต.ค. 52 ที่ห้อง Chalet Mountain View ห้องปรับปรุงใหม่สวยหรูสะดวกสบายทีวีจอแบบ มีอ่างน้ำหน้าระเบียงด้วย แต่เปิดโล่งมากไป ไม่ค่อยส่วนตัวเท่าไร ติดใจตรงบรรยากาศท้องทุ่งที่นี่