Koh Mook Charlie Beach Resort
164 Moo 2, Koh Mook, A. Kantang, Trang, 92110 (27 Review)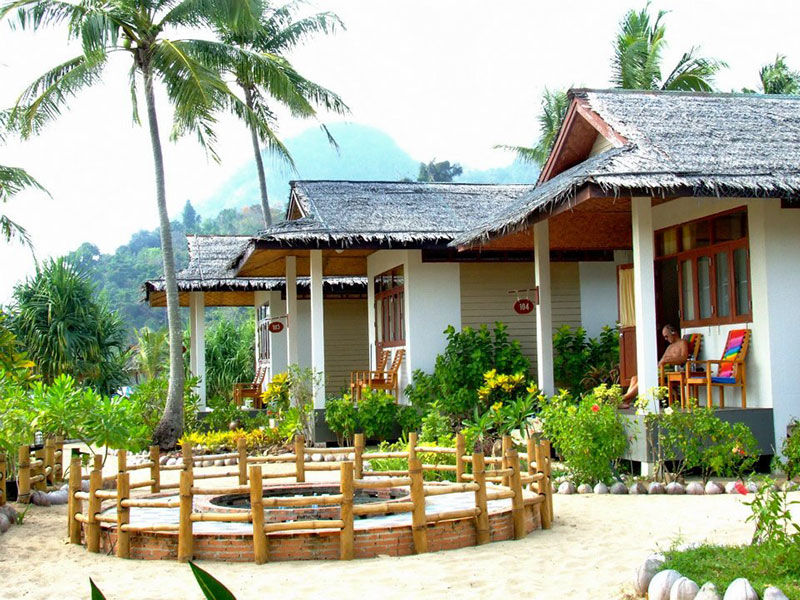 What are the Guests saying?:
9.8
"nice locaton, lovely room but less of menu at restaurant"
Pilada
9.6
"There's a great location and lovely staff. "
Liv Lange Rohrer
9.2
"We will come back to Charlie beach hotell. Thank you for a wounderful week!!"
Margareta Johansson
9
"We stayed in a bungalow was smallish but nice. Beautiful private beach"
Remo
8.8
"Best option on the island since it's comfortabe."
Magarette
Detail
Koh Mook Charlie Beach Resort ligger på den västra sidan av Koh Mook, anmärkningsvärt med vit sandstrand, tropiska landskap omgivet, kristallklart vatten med sol-set atmosfär. Koh Mook Charlie Beach erbjuder ett utbud av bungalows, några gjord av bambu. Utrustad med antingen en fläkt eller luftkonditionering, alla kommer med ett kylskåp. Badrummen är antingen delade eller priva ta, och är utrustade med dusch. read more..
Facilities
Amenities
handikappanpassat
hiss
executive floor
familjerum
möteslokaler
restaurang
kassaskåp i rummet
salong
butiker
rökrummet
parkering
Sport and Recreation
bar / pub
cykeluthyrning
coffee Shop
nattklubb
bar vid poolen
trädgård
golfbana (på plats)
gym
inomhuspool
jacuzzi
kids club
massage
utomhuspool
bassäng (för barn)
bastu
spa
squashbanor
ångbastu
tennisbanor
kasino
Services
24h rumsservice
flygplatstransfer
barnvakt
affärscentrum
concierge
tvättservice / kemtvätt
tours
Wi-Fi i allmänna utrymmen
Internet - LAN
Internet - LAN (avgifter)
Internet - trådlös (kostnadsfritt)
room service
barnsäng
Customer Reviews
อัศณีย์..
(Others)
(8)
30 December 2014
ห้องพักสะดวก สบายเหมาะกับราคา เงียบสงบ ติดชายหาด เหมาะกับทั้งเที่ยวเป็นกลุ่มกับเพื่อน หรือฮันนีมูน
Martin
(Couples)
(8.4)
1 April 2014
Very relaxing, good buffet breakfast,Cleaning and new towels every day.
Karlsson Mats
(Couples)
(7.6)
1 April 2014
The hotel is good location and staff is very good service. The food is very fantastic.
Joanna Zeppelin
(Couples)
(7)
31 March 2014
Very nice resort, cheap and Lovely garden, near everything! Big pool and 1 recommended this resort! Good food and nice staff!
Sandra Nilsson
(Single Occupancy)
(6.2)
10 March 2014
We got to stay in a bamboo instead. Then we didn't get any wifi on the entire stay and no one could help us fix it so didn't get what we paid for. And I got really sick from the food one day.
Lars Birkholm
(Couples)
(8.2)
31 January 2014
big resort with a lovely beach.
Jens fast
(Couples)
(8.4)
20 January 2014
We had some very nice days at Koh Mook, We arrived by ferry and were happy that our resort was a few steps away, Charlie Beach has the best location on the beach. We enjoyed the pool, the beach, the lunch bar at the beach and the nice restaurant sitting with your feet in the sand. Emerald cave was a fasinating nature adventure.
Pichapa
(Couples)
(7)
1 August 2013
โดยรวมๆ พึงพอใจมาก อยากกลับไปเที่ยวอีก อากาศดี โรแมนติก
Pilada
(Couples)
(9.8)
1 August 2013
nice locaton, lovely room but less of menu at restaurant
Remo
(Couples)
(9)
29 April 2013
We stayed in a bungalow was smallish but nice. Beautiful private beach
read more