My Way
20/35 Soi Hua Hin 108 Petkasem Rd. Noungkae Hua Hin, Prachuabkhirikhan, 77110 (5 Recenzie)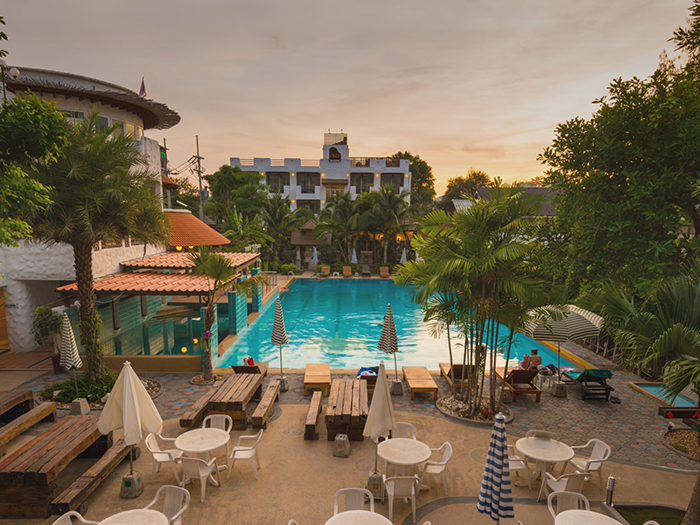 Ce spun oaspeții?:
9
"ราคาถูกที่พักใกล้กับตลาดไนท์ด้วยครับ ห้องสะอาดอาหารก็หาทานง่ายดี แต่น่าเสียดายใกล้กับที่รถวิ่งผ่านและที่รีสอร์ทไม่ค่อยมีที่จอดรถ"
วัชระ
8.2
"โรงแรมตั้งอยู่ใจกลางเมือง ชอบตรงที่ติดถนน ติดทะเล แล้วก็ติดตลาด อีกทั้งภายในโรงแรมยังมีมุมพักผ่อนหลายมุม มีมุมร้านกาแฟด้วย"
ทักษิณ
7.6
"สถานที่สะดวกในการเดินทางเพราะติดถนนใหญ่ ผู้ดูแลให้ความใส่ใจกับผู้เข้าพักอย่างเป็นกันเอง พนักงานบริการอย่างดี แต่จะมีเสียงรบกวนจากพื้นที่ใกล้เคียง และเสียงรถที่วิ่งผ่าน "
นัด
6.4
"ทำเลที่ตั้ง ห้องพักและสระว่ายน้ำดีครับ แต่ที่จอดรถน้อยไปหน่อย"
เจษฏา
4.2
"ห้องพักเก่า ไม่สะอาด "
ปราณี
Detaliu
My Way Hua hin situated at 20/35 Soi Hua Hin 108 Petkasem Rd. Is in a quiet part of town, minutes from the famous local night market.

Each rooms decorated with musical instruments. This air-conditioned room has a sitting area and big flat-screen TVs with cable channels. The hotel's services are include Room Service, Shuttle Service (free), Laundry, Meeting/Banquet Facilities , Fitness Center, Business Center and Outdoor Pool

Citeşte mai mult..
Facilităţi
Amenitate
facilități dizabilități
lift
etajul executiv
cameră familială
sala de reuniuni
restaurant
seif în cameră
salon
magazine
fumoar
parcare
Sport şi recreere
bar / pub
închiriere de biciclete
cafenea
club de noapte
barul de la piscină
grădină
teren de golf (pe site-ul)
sală de fitness
piscină interioară
jacuzzi
club pentru copii
masaj
piscină în aer liber
piscină (copii)
sauna
spa
terenuri de squash
baie de aburi
terenuri de tenis
cazinou
Servicii
24 de ore room service-ul
transfer aeroport
babysitting
centru de afaceri
administrator
serviciu de spălătorie / curăţătorie chimică
excursii
Wi-Fi în zonele publice
acces la internet - LAN
acces la internet - LAN (taxe)
acces la internet - wireless (fără taxe)
room service
pătuț pentru copii
Clienţi Opinii
เจษฏา
(familii)
(6.4)
1 May 2015
ทำเลที่ตั้ง ห้องพักและสระว่ายน้ำดีครับ แต่ที่จอดรถน้อยไปหน่อย
ทักษิณ
(familii)
(8.2)
14 January 2014
โรงแรมตั้งอยู่ใจกลางเมือง ชอบตรงที่ติดถนน ติดทะเล แล้วก็ติดตลาด อีกทั้งภายในโรงแรมยังมีมุมพักผ่อนหลายมุม มีมุมร้านกาแฟด้วย
ปราณี
(cupluri)
(4.2)
28 January 2013
วัชระ
(Ocupare unică)
(9)
15 August 2012
ราคาถูกที่พักใกล้กับตลาดไนท์ด้วยครับ ห้องสะอาดอาหารก็หาทานง่ายดี แต่น่าเสียดายใกล้กับที่รถวิ่งผ่านและที่รีสอร์ทไม่ค่อยมีที่จอดรถ
นัด
(Ocupare unică)
(7.6)
27 July 2012
สถานที่สะดวกในการเดินทางเพราะติดถนนใหญ่ ผู้ดูแลให้ความใส่ใจกับผู้เข้าพักอย่างเป็นกันเอง พนักงานบริการอย่างดี แต่จะมีเสียงรบกวนจากพื้นที่ใกล้เคียง และเสียงรถที่วิ่งผ่าน