Koh Mook Charlie Beach Resort
164 Moo 2, Koh Mook, A. Kantang, Trang, 92110 (27 Recenzie)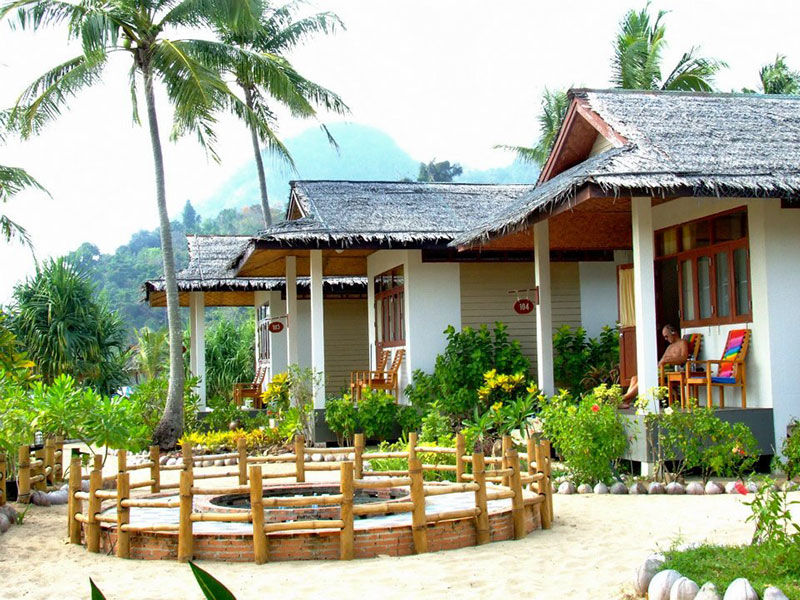 Ce spun oaspeții?:
9.8
"nice locaton, lovely room but less of menu at restaurant"
Pilada
9.6
"There's a great location and lovely staff. "
Liv Lange Rohrer
9.2
"We will come back to Charlie beach hotell. Thank you for a wounderful week!!"
Margareta Johansson
9
"We stayed in a bungalow was smallish but nice. Beautiful private beach"
Remo
8.8
"Best option on the island since it's comfortabe."
Magarette
Detaliu
Koh Mook Charlie Beach Resort este situat în partea de vest a Koh Mook, remarcabil cu plaja de nisip alb, înconjurat peisaj tropicale, apa cristalina, cu soare-set de atmosferă. Koh Mook Charlie Beach oferă o gamă largă de bungalouri, unele realizate din bambus. Echipate fie cu un ventilator sau aer condiţionat, toate vin cu un frigider. Băile sunt fie partajate sau private, şi echipate cu facilităţi de duş. Citeşte mai mult..
Facilităţi
Amenitate
facilități dizabilități
lift
etajul executiv
cameră familială
sala de reuniuni
restaurant
seif în cameră
salon
magazine
fumoar
parcare
Sport şi recreere
bar / pub
închiriere de biciclete
cafenea
club de noapte
barul de la piscină
grădină
teren de golf (pe site-ul)
sală de fitness
piscină interioară
jacuzzi
club pentru copii
masaj
piscină în aer liber
piscină (copii)
sauna
spa
terenuri de squash
baie de aburi
terenuri de tenis
cazinou
Servicii
24 de ore room service-ul
transfer aeroport
babysitting
centru de afaceri
administrator
serviciu de spălătorie / curăţătorie chimică
animale de companie
excursii
Wi-Fi în zonele publice
acces la internet - LAN
acces la internet - LAN (taxe)
acces la internet - wireless (fără taxe)
room service
pătuț pentru copii
Clienţi Opinii
อัศณีย์..
(alții)
30 December 2014
ห้องพักสะดวก สบายเหมาะกับราคา เงียบสงบ ติดชายหาด เหมาะกับทั้งเที่ยวเป็นกลุ่มกับเพื่อน หรือฮันนีมูน
Martin
(cupluri)
1 April 2014
Very relaxing, good buffet breakfast,Cleaning and new towels every day.
Karlsson Mats
(cupluri)
1 April 2014
The hotel is good location and staff is very good service. The food is very fantastic.
Joanna Zeppelin
(cupluri)
31 March 2014
Very nice resort, cheap and Lovely garden, near everything! Big pool and 1 recommended this resort! Good food and nice staff!
Sandra Nilsson
(Ocupare unică)
10 March 2014
We got to stay in a bamboo instead. Then we didn't get any wifi on the entire stay and no one could help us fix it so didn't get what we paid for. And I got really sick from the food one day.
Lars Birkholm
(cupluri)
31 January 2014
big resort with a lovely beach.
Jens fast
(cupluri)
20 January 2014
We had some very nice days at Koh Mook, We arrived by ferry and were happy that our resort was a few steps away, Charlie Beach has the best location on the beach. We enjoyed the pool, the beach, the lunch bar at the beach and the nice restaurant sitting with your feet in the sand. Emerald cave was a fasinating nature adventure.
Pichapa
(cupluri)
1 August 2013
โดยรวมๆ พึงพอใจมาก อยากกลับไปเที่ยวอีก อากาศดี โรแมนติก
Pilada
(cupluri)
1 August 2013
nice locaton, lovely room but less of menu at restaurant
Remo
(cupluri)
29 April 2013
We stayed in a bungalow was smallish but nice. Beautiful private beach
Citeşte mai mult