P.P. Palm Tree Resort
129 Moo 7 T. Aonang A. Muang, Krabi, 81000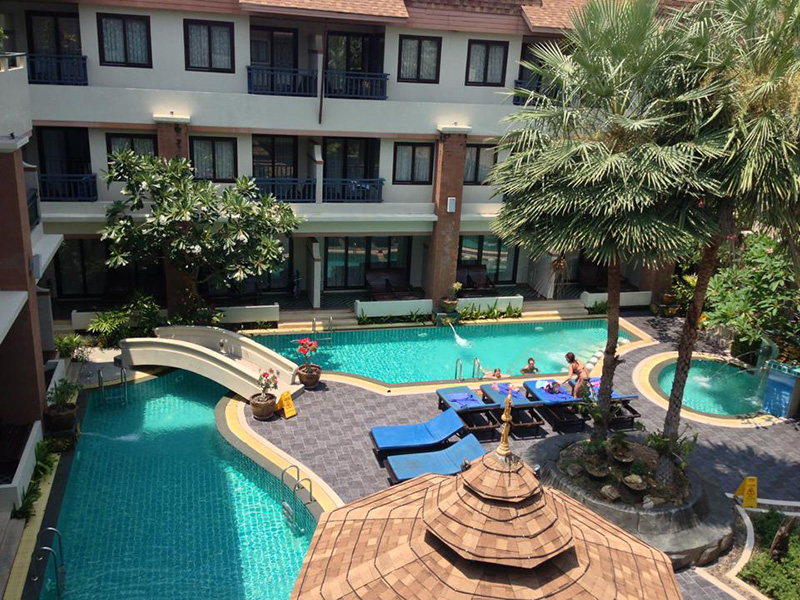 O que os convidados estão dizendo?:
10
" Perfect! Everthing was good!!"
Bowman
9.8
"Everything was perfect! The resort was splendid!"
Barbara Smet
Cristina Ionescu
9.4
"Was unhappy about not being allowed to bring a guest back at night. Other than that I was very happy with staff and facilities."
David Malone
9.4
"Perfect! The location of the hotel is good. Staff is so friendly."
Cristina
detalhe
PP Palm Tree Resort é um resort moderno situado no centro da ilha. O resort oferece ampla gama de confortos e facilidades para todos os hóspedes de 40 quartos com 3 tipos de quartos principal é Deluxe Room, Pool Access Room e Palm Tree Suite.
Instalações
Amenidades
cortesias para deficientes
elevador
andar executivo
quarto da família
instalações para reuniões
restaurante.
cofre no quarto
salão de beleza
lojas
sala para fumantes
parque de estacionamento
Esporte e recreação
bar / pub
aluguer de bicicletas
café
boate
bar junto à piscina
jardim
campo de golfe (no local)
sala de fitness
piscina coberta
jacuzzi
kids club
massagem
piscina ao ar livre
piscina (crianças)
sauna
spa
campos de squash
sala de vapor
quadras de tênis
cassino
Serviços
serviço de quarto 24h
transfer para o aeroporto
babysitting
centro de negócios
porteiro
serviço de lavandaria / limpeza a seco
animais de estimação admitidos
passeios
Wi-Fi nas áreas públicas
acesso à Internet - LAN
acesso à Internet - LAN (taxas)
acesso à internet - wireless (sem taxas)
serviço de quarto
berço
Comentários dos clientes
Stephane Kovatchev
(casais)
31 August 2015
would recommend, lovely hotel !
Jillian Sharples
(casais)
31 August 2015
The only major downfall to my stay was the bedbugs in my room. Other than that everything was great and the staff were extremely polite, helpful, and kind.
Bhupinder Purewal
(casais)
2 February 2015
Great stay here. I will definately be staying on my next trip.
Irina Hossu
(outras)
1 November 2014
rooms are very modern and clean.
Nicholas Tomlinson
(casais)
2 September 2014
This hotel was good value for money. The rooms were nice, good size, clean. The pool was a nice size considering the size of the hotel and also clean.
Leelawadee
(outras)
1 May 2014
ห้องพักและบริเวณโรงแรมสะอาด สะดวกสบายหรูหรา อยู่ในแหล่งชุมชนจึงสามารถเดินไปเที่ยวตลาด ไปชายหาดโละดาลัม ซื้อทัวร์ ไปจุดชมวิว และร้านอาหารได้สบายๆ
Yaara Raski
(casais)
1 May 2014
The rooms look newly conditioned and the hotel pool is very nice and clean. Service staff are not so freiendly and don't seems to understand english.
Huw Crwys-Williams
(casais)
1 May 2014
this is a good hotel option in phi phi, clean, spacious, nice service.
Uzi Zaray
(casais)
31 March 2014
nice balcony giving on the swimming pool,
ANTON WENTZEL
(outras)
31 March 2014
very good hotel. Nice rooms and pool.
leia mais