P.P. Palm Tree Resort
129 Moo 7 T. Aonang A. Muang, Krabi, 81000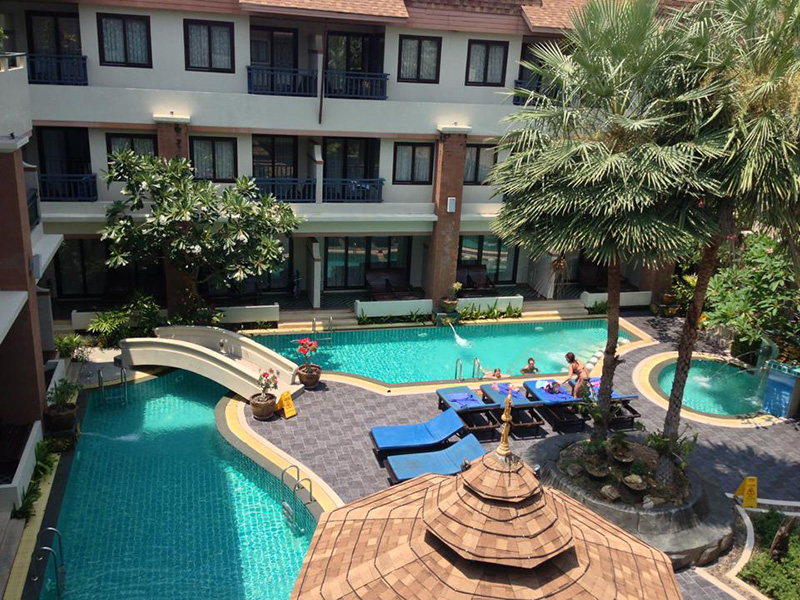 Co mówią goście?:
10
" Perfect! Everthing was good!!"
Bowman
9.8
"Everything was perfect! The resort was splendid!"
Barbara Smet
Cristina Ionescu
9.4
"Was unhappy about not being allowed to bring a guest back at night. Other than that I was very happy with staff and facilities."
David Malone
9.4
"Perfect! The location of the hotel is good. Staff is so friendly."
Cristina
detal
PP Palm Tree Resort to nowoczesny ośrodek położony w centrum wyspy. Ośrodek oferuje pełny zakres udogodnienia dla wszystkich gości 40 pokoi w 3 główne typy pokoju Deluxe Room, Pool Access Room i Palm Tree Suite.
Udogodnienia
Udogodnienia
udogodnienia dla osób
winda
VIP piętro
pokój rodzinny
sala zebrań
restauracja
sejf w pokoju
salon
sklepy
pokój dla palących
parkings
Sportu i Rekreacji
bar / pub
rower na wynajem
kawiarnia
klub nocny
bar przy basenie
ogród
pole golfowe (na miejscu)
siłownia
kryty basen
jacuzzi
klub dla dzieci
masaż
basen odkryty
basen (dla dzieci)
sauna
spa
korty do squasha
łaźnia parowa
korty tenisowe
kasyno
Usług
24 godziny room service
transfer z lotniska
opieka nad dziećmi
centrum biznesu
concierge
pralnia / czyszczenie chemiczne
zwierzęta domowe dozwolone
wycieczki
Wi-Fi w miejscach publicznych
dostęp do Internetu - LAN
dostęp do Internetu - LAN (opłaty)
dostęp do internetu - bezprzewodowy (bez opłat)
room service
łóżeczko dla dziecka
Opinie klientów
Stephane Kovatchev
(pary)
31 August 2015
would recommend, lovely hotel !
Jillian Sharples
(pary)
31 August 2015
The only major downfall to my stay was the bedbugs in my room. Other than that everything was great and the staff were extremely polite, helpful, and kind.
Bhupinder Purewal
(pary)
2 February 2015
Great stay here. I will definately be staying on my next trip.
Irina Hossu
(inni)
1 November 2014
rooms are very modern and clean.
Nicholas Tomlinson
(pary)
2 September 2014
This hotel was good value for money. The rooms were nice, good size, clean. The pool was a nice size considering the size of the hotel and also clean.
Leelawadee
(inni)
1 May 2014
ห้องพักและบริเวณโรงแรมสะอาด สะดวกสบายหรูหรา อยู่ในแหล่งชุมชนจึงสามารถเดินไปเที่ยวตลาด ไปชายหาดโละดาลัม ซื้อทัวร์ ไปจุดชมวิว และร้านอาหารได้สบายๆ
Yaara Raski
(pary)
1 May 2014
The rooms look newly conditioned and the hotel pool is very nice and clean. Service staff are not so freiendly and don't seems to understand english.
Huw Crwys-Williams
(pary)
1 May 2014
this is a good hotel option in phi phi, clean, spacious, nice service.
Uzi Zaray
(pary)
31 March 2014
nice balcony giving on the swimming pool,
ANTON WENTZEL
(inni)
31 March 2014
very good hotel. Nice rooms and pool.
czytaj więcej