Koh Mook Charlie Beach Resort
164 Moo 2, Koh Mook, A. Kantang, Trang, 92110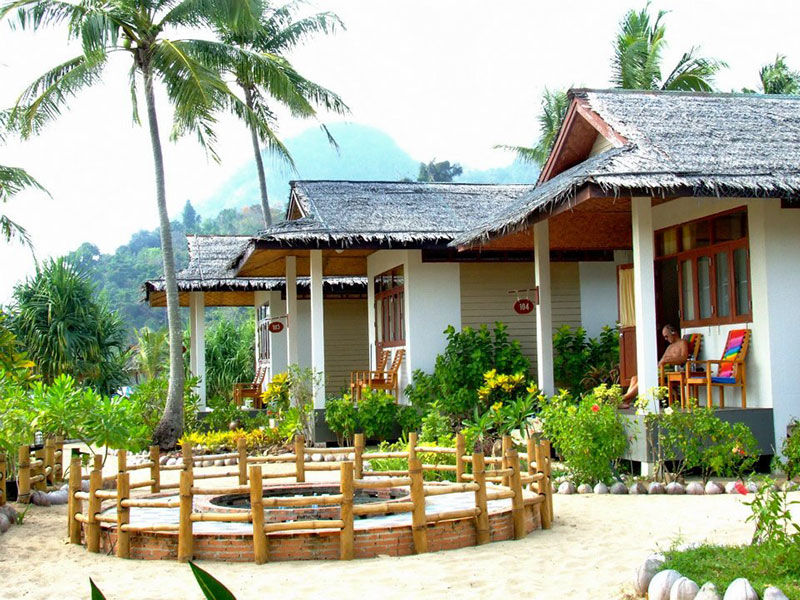 Co mówią goście?:
9.8
"nice locaton, lovely room but less of menu at restaurant"
Pilada
9.6
"There's a great location and lovely staff. "
Liv Lange Rohrer
9.2
"We will come back to Charlie beach hotell. Thank you for a wounderful week!!"
Margareta Johansson
9
"We stayed in a bungalow was smallish but nice. Beautiful private beach"
Remo
8.8
"Best option on the island since it's comfortabe."
Magarette
detal
Koh Mook Charlie Beach Resort położony jest po zachodniej stronie wyspy Koh Mook, niezwykły z piaszczystej plaży, w otoczeniu tropikalnego krajobrazu, krystalicznie czysta woda z sun-set atmosferze. Koh Mook Charlie Plaża oferuje szereg bungalowów, niektóre wykonane z bambusa. Wyposażony w wentylator lub klimatyzację, wszystkie wyposażone są w lodówkę. Łazienki są wspólne zarów no lub prywatnych, oraz wyposażone w prysznic. czytaj więcej..
Udogodnienia
Udogodnienia
udogodnienia dla osób
winda
VIP piętro
pokój rodzinny
sala zebrań
restauracja
sejf w pokoju
salon
sklepy
pokój dla palących
parkings
Sportu i Rekreacji
bar / pub
rower na wynajem
kawiarnia
klub nocny
bar przy basenie
ogród
pole golfowe (na miejscu)
siłownia
kryty basen
jacuzzi
klub dla dzieci
masaż
basen odkryty
basen (dla dzieci)
sauna
spa
korty do squasha
łaźnia parowa
korty tenisowe
kasyno
Usług
24 godziny room service
transfer z lotniska
opieka nad dziećmi
centrum biznesu
concierge
pralnia / czyszczenie chemiczne
zwierzęta domowe dozwolone
wycieczki
Wi-Fi w miejscach publicznych
dostęp do Internetu - LAN
dostęp do Internetu - LAN (opłaty)
dostęp do internetu - bezprzewodowy (bez opłat)
room service
łóżeczko dla dziecka
Opinie klientów
อัศณีย์..
(inni)
30 December 2014
ห้องพักสะดวก สบายเหมาะกับราคา เงียบสงบ ติดชายหาด เหมาะกับทั้งเที่ยวเป็นกลุ่มกับเพื่อน หรือฮันนีมูน
Martin
(pary)
1 April 2014
Very relaxing, good buffet breakfast,Cleaning and new towels every day.
Karlsson Mats
(pary)
1 April 2014
The hotel is good location and staff is very good service. The food is very fantastic.
Joanna Zeppelin
(pary)
31 March 2014
Very nice resort, cheap and Lovely garden, near everything! Big pool and 1 recommended this resort! Good food and nice staff!
Sandra Nilsson
(Pojedyncze obłożenie)
10 March 2014
We got to stay in a bamboo instead. Then we didn't get any wifi on the entire stay and no one could help us fix it so didn't get what we paid for. And I got really sick from the food one day.
Lars Birkholm
(pary)
31 January 2014
big resort with a lovely beach.
Jens fast
(pary)
20 January 2014
We had some very nice days at Koh Mook, We arrived by ferry and were happy that our resort was a few steps away, Charlie Beach has the best location on the beach. We enjoyed the pool, the beach, the lunch bar at the beach and the nice restaurant sitting with your feet in the sand. Emerald cave was a fasinating nature adventure.
Pichapa
(pary)
1 August 2013
โดยรวมๆ พึงพอใจมาก อยากกลับไปเที่ยวอีก อากาศดี โรแมนติก
Pilada
(pary)
1 August 2013
nice locaton, lovely room but less of menu at restaurant
Remo
(pary)
29 April 2013
We stayed in a bungalow was smallish but nice. Beautiful private beach
czytaj więcej