Koh Mook Charlie Beach Resort
164 Moo 2, Koh Mook, A. Kantang, Trang, 92110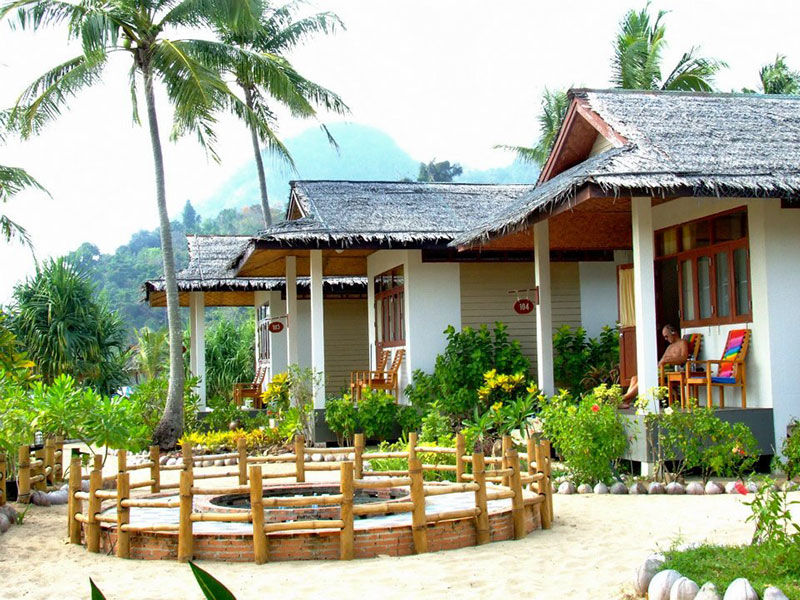 Wat zeggen de gasten?:
9.8
"nice locaton, lovely room but less of menu at restaurant"
Pilada
9.6
"There's a great location and lovely staff. "
Liv Lange Rohrer
9.2
"We will come back to Charlie beach hotell. Thank you for a wounderful week!!"
Margareta Johansson
9
"We stayed in a bungalow was smallish but nice. Beautiful private beach"
Remo
8.8
"Best option on the island since it's comfortabe."
Magarette
Detail
Koh Mook Charlie Beach Resort is gelegen aan de westkant van Koh Mook, opmerkelijke met wit zandstrand, omgeven tropische landschap, kristal helder water met de zon-set sfeer. Koh Mook Charlie Beach biedt een scala aan bungalows, sommige gemaakt van bamboe. Uitgerust met een ventilator of airconditioning, allemaal voorzien van een koelkast. De badkamers zijn ofwel of gedeelteli jk gebruik, en voorzien van douche faciliteiten. lees meer..
Faciliteiten
Voorzieningen
gehandicaptenvoorzieningen
lift
VIP-kamervoorzieningen
familie kamer
vergaderfaciliteiten
restaurant
kluisje in de kamer
kapsalon
winkels
rokers
parkeerplaats
Sport en recreatie
bar / pub
fietsverhuur
coffeeshop
nachtclub
bar aan het zwembad
tuin
golfbaan (ter plaatse)
fitnessruimte
overdekt zwembad
jacuzzi
kids club
massage
buitenzwembad
zwembad (voor kinderen)
sauna
spa
squashbanen
stoombad
tennisbanen
casino
Diensten
24-uurs roomservice
vervoer van/naar luchthaven
babysit
zakencentrum
conciërge
wasserij / stomerij
huisdieren toegestaan
rondleidingen
Wi-Fi in de openbare ruimtes
toegang tot internet - LAN
toegang tot internet - LAN (kosten)
Internet - draadloos (zonder kosten)
roomservice
babybedje
klant recensies
อัศณีย์..
(anderen)
30 December 2014
ห้องพักสะดวก สบายเหมาะกับราคา เงียบสงบ ติดชายหาด เหมาะกับทั้งเที่ยวเป็นกลุ่มกับเพื่อน หรือฮันนีมูน
Martin
(koppels)
1 April 2014
Very relaxing, good buffet breakfast,Cleaning and new towels every day.
Karlsson Mats
(koppels)
1 April 2014
The hotel is good location and staff is very good service. The food is very fantastic.
Joanna Zeppelin
(koppels)
31 March 2014
Very nice resort, cheap and Lovely garden, near everything! Big pool and 1 recommended this resort! Good food and nice staff!
Sandra Nilsson
(Enkele bezetting)
10 March 2014
We got to stay in a bamboo instead. Then we didn't get any wifi on the entire stay and no one could help us fix it so didn't get what we paid for. And I got really sick from the food one day.
Lars Birkholm
(koppels)
31 January 2014
big resort with a lovely beach.
Jens fast
(koppels)
20 January 2014
We had some very nice days at Koh Mook, We arrived by ferry and were happy that our resort was a few steps away, Charlie Beach has the best location on the beach. We enjoyed the pool, the beach, the lunch bar at the beach and the nice restaurant sitting with your feet in the sand. Emerald cave was a fasinating nature adventure.
Pichapa
(koppels)
1 August 2013
โดยรวมๆ พึงพอใจมาก อยากกลับไปเที่ยวอีก อากาศดี โรแมนติก
Pilada
(koppels)
1 August 2013
nice locaton, lovely room but less of menu at restaurant
Remo
(koppels)
29 April 2013
We stayed in a bungalow was smallish but nice. Beautiful private beach
lees meer