The Racha
42/12-13 Moo 5 Rawai, A. Muang, Phuket, 83130 (2 Mengkaji)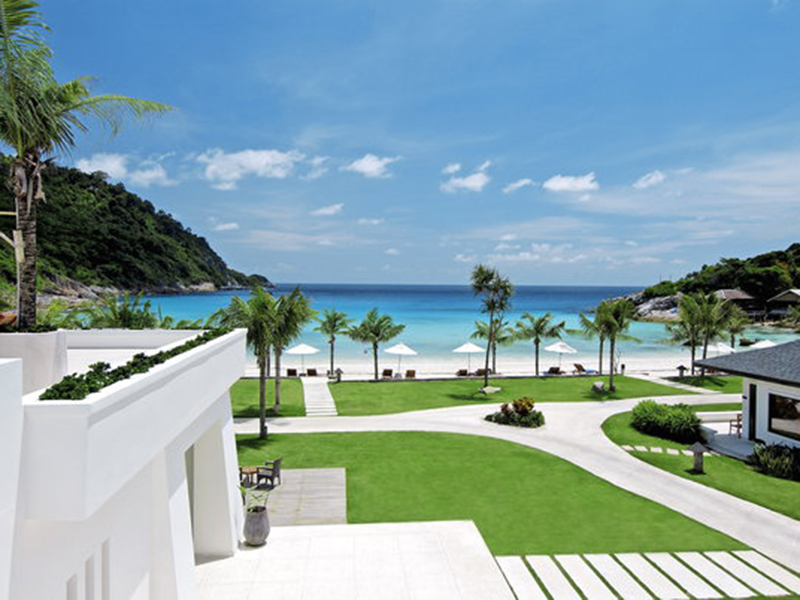 Apa yang dikatakan tetamu?:
9
"1. ที่พักและชายหาดสวยงามมาก 2. ตอนไปคนเข้าพักเต็ม จึงทำให้อุปกรณ์ดำน้ำไม่เพียงพอ อยากให้เพิ่มค่ะ"
เพ็ยศิริ
7
"เป็นส่วนตัวมากสำหรับที่นี้ ผมชอบน่ะ แต่ติดที่ต้นไม้น้อย อากาศร้อนมาก โดยรวม ผมให้ 3 ดาวครับ"
Tony
Room is not available on your selected period.
Terperinci
The Racha

The Racha is a luxurious resort on Racha island. only 12 miles south of Phuket, just 35 minutes by speed boat from the Chalong-bay pier. T

The Racha has been designed to blend in with the existing terrain of the land and care has been taken to ensure the 69 luxurious single-storey villas and annex buildings do not stick out like sore thumbs running the nature profile of the land.

The rooms comprise with large private terraces, the elegant villas have a flat-screen TV, iPod dock and DVD player.

There are sunset Beach Restaurant and Other dining options include international food at Earth Cafe, Fire Grill and cocktails at the bar. read more..
Kemudahan
Kemudahan
kemudahan orang kurang upaya
lif
tingkat eksekutif
bilik keluarga
kemudahan mesyuarat
restoran
peti deposit keselamatan dalam bilik
salon
kedai
bilik merokok
tempat letak kereta
Sukan dan Rekreasi
bar / pub
sewa basikal
kedai kopi
kelab malam
bar tepi kolam
taman
padang golf (di lokasi)
bilik kecergasan
kolam renang dalaman
jakuzi
kelab kanak-kanak
urut
kolam renang luar
kolam renang (kanak-kanak)
sauna
spa
skuasy
bilik wap
gelanggang tenis
kasino
Perkhidmatan
perkhidmatan bilik 24 jam
pemindahan kereta
menjaga anak
pusat perniagaan
penjaga pintu
perkhidmatan dobi / cucian kering
lawatan
Wi-Fi percuma di kawasan awam
akses internet - LAN (percuma)
akses internet - LAN (caj)
akses internet wayarles (percuma)
perkhidmatan bilik
katil bayi
Ulasan Pelanggan
เพ็ยศิริ..
(pasangan)
(9)
30 November 2012
1. ที่พักและชายหาดสวยงามมาก 2. ตอนไปคนเข้าพักเต็ม จึงทำให้อุปกรณ์ดำน้ำไม่เพียงพอ อยากให้เพิ่มค่ะ
Tony
(lain-lain)
(7)
30 August 2011
เป็นส่วนตัวมากสำหรับที่นี้ ผมชอบน่ะ แต่ติดที่ต้นไม้น้อย อากาศร้อนมาก โดยรวม ผมให้ 3 ดาวครับ