P.P. Palm Tree Resort
129 Moo 7 T. Aonang A. Muang, Krabi, 81000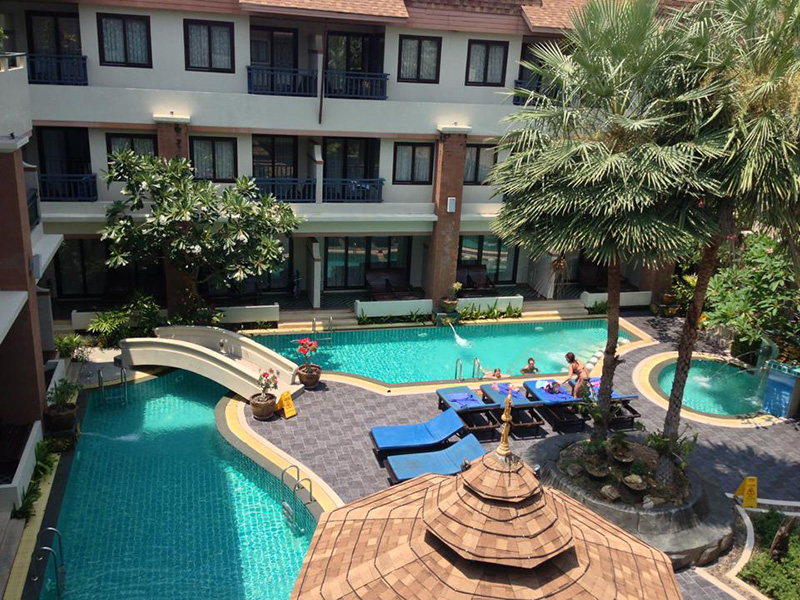 Apa yang dikatakan tetamu?:
10
" Perfect! Everthing was good!!"
Bowman
9.8
"Everything was perfect! The resort was splendid!"
Barbara Smet
Cristina Ionescu
9.4
"Was unhappy about not being allowed to bring a guest back at night. Other than that I was very happy with staff and facilities."
David Malone
9.4
"Perfect! The location of the hotel is good. Staff is so friendly."
Cristina
Terperinci
PP Palm Tree resort adalah resort moden yang terletak di tengah-tengah pulau itu. Resort ini menawarkan pelbagai kemudahan dan keselesaan kepada semua tetamu 40 bilik-bilik dengan 3 jenis bilik utama Deluxe Room, Kolam Akses Bilik dan Palm Tree Suite.
Kemudahan
Kemudahan
kemudahan orang kurang upaya
lif
tingkat eksekutif
bilik keluarga
kemudahan mesyuarat
restoran
peti deposit keselamatan dalam bilik
salon
kedai
bilik merokok
tempat letak kereta
Sukan dan Rekreasi
bar / pub
sewa basikal
kedai kopi
kelab malam
bar tepi kolam
taman
padang golf (di lokasi)
bilik kecergasan
kolam renang dalaman
jakuzi
kelab kanak-kanak
urut
kolam renang luar
kolam renang (kanak-kanak)
sauna
spa
skuasy
bilik wap
gelanggang tenis
kasino
Perkhidmatan
perkhidmatan bilik 24 jam
pemindahan kereta
menjaga anak
pusat perniagaan
penjaga pintu
perkhidmatan dobi / cucian kering
binatang kesayangan dibenarkan
lawatan
Wi-Fi percuma di kawasan awam
akses internet - LAN (percuma)
akses internet - LAN (caj)
akses internet wayarles (percuma)
perkhidmatan bilik
katil bayi
Ulasan Pelanggan
Stephane Kovatchev
(pasangan)
31 August 2015
would recommend, lovely hotel !
Jillian Sharples
(pasangan)
31 August 2015
The only major downfall to my stay was the bedbugs in my room. Other than that everything was great and the staff were extremely polite, helpful, and kind.
Bhupinder Purewal
(pasangan)
2 February 2015
Great stay here. I will definately be staying on my next trip.
Irina Hossu
(lain-lain)
1 November 2014
rooms are very modern and clean.
Nicholas Tomlinson
(pasangan)
2 September 2014
This hotel was good value for money. The rooms were nice, good size, clean. The pool was a nice size considering the size of the hotel and also clean.
Leelawadee
(lain-lain)
1 May 2014
ห้องพักและบริเวณโรงแรมสะอาด สะดวกสบายหรูหรา อยู่ในแหล่งชุมชนจึงสามารถเดินไปเที่ยวตลาด ไปชายหาดโละดาลัม ซื้อทัวร์ ไปจุดชมวิว และร้านอาหารได้สบายๆ
Yaara Raski
(pasangan)
1 May 2014
The rooms look newly conditioned and the hotel pool is very nice and clean. Service staff are not so freiendly and don't seems to understand english.
Huw Crwys-Williams
(pasangan)
1 May 2014
this is a good hotel option in phi phi, clean, spacious, nice service.
Uzi Zaray
(pasangan)
31 March 2014
nice balcony giving on the swimming pool,
ANTON WENTZEL
(lain-lain)
31 March 2014
very good hotel. Nice rooms and pool.
read more