Koh Mook Charlie Beach Resort
164 Moo 2, Koh Mook, A. Kantang, Trang, 92110 (27 Mengkaji)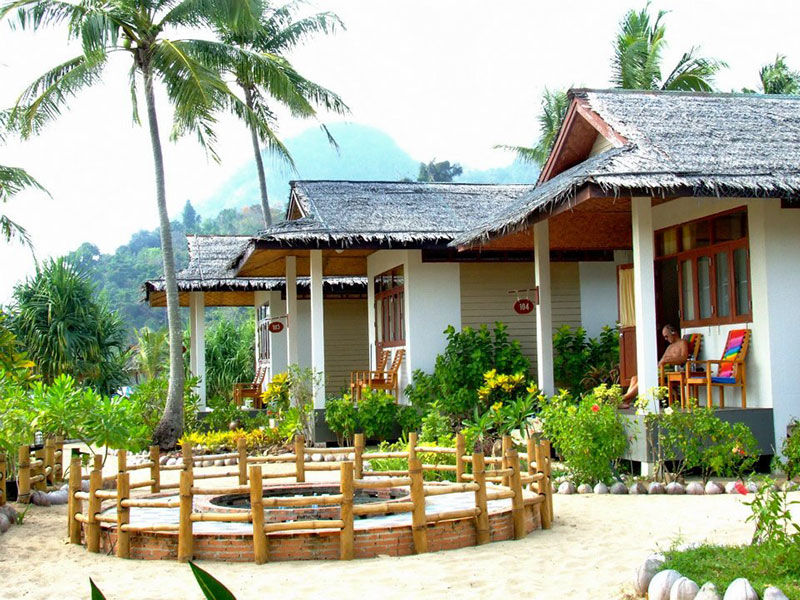 Apa yang dikatakan tetamu?:
9.8
"nice locaton, lovely room but less of menu at restaurant"
Pilada
9.6
"There's a great location and lovely staff. "
Liv Lange Rohrer
9.2
"We will come back to Charlie beach hotell. Thank you for a wounderful week!!"
Margareta Johansson
9
"We stayed in a bungalow was smallish but nice. Beautiful private beach"
Remo
8.8
"Best option on the island since it's comfortabe."
Magarette
Terperinci
Koh Mook Charlie Beach Resort terletak di sebelah barat Koh Mook, luar biasa dengan pantai berpasir putih, landskap tropika yang dikelilingi air jernih dengan suasana yang ditetapkan oleh matahari. Koh Mook Charlie Beach menawarkan pelbagai banglo, beberapa dibuat dari buluh. Dilengkapi dengan sama ada kipas atau penghawa dingin, semua datang dengan peti sejuk. Bilik air dikong si sama ada atau swasta, dan dilengkapi dengan kemudahan mandi. read more..
Kemudahan
Kemudahan
kemudahan orang kurang upaya
lif
tingkat eksekutif
bilik keluarga
kemudahan mesyuarat
restoran
peti deposit keselamatan dalam bilik
salon
kedai
bilik merokok
tempat letak kereta
Sukan dan Rekreasi
bar / pub
sewa basikal
kedai kopi
kelab malam
bar tepi kolam
taman
padang golf (di lokasi)
bilik kecergasan
kolam renang dalaman
jakuzi
kelab kanak-kanak
urut
kolam renang luar
kolam renang (kanak-kanak)
sauna
spa
skuasy
bilik wap
gelanggang tenis
kasino
Perkhidmatan
perkhidmatan bilik 24 jam
pemindahan kereta
menjaga anak
pusat perniagaan
penjaga pintu
perkhidmatan dobi / cucian kering
binatang kesayangan dibenarkan
lawatan
Wi-Fi percuma di kawasan awam
akses internet - LAN (percuma)
akses internet - LAN (caj)
akses internet wayarles (percuma)
perkhidmatan bilik
katil bayi
Ulasan Pelanggan
อัศณีย์..
(lain-lain)
30 December 2014
ห้องพักสะดวก สบายเหมาะกับราคา เงียบสงบ ติดชายหาด เหมาะกับทั้งเที่ยวเป็นกลุ่มกับเพื่อน หรือฮันนีมูน
Martin
(pasangan)
1 April 2014
Very relaxing, good buffet breakfast,Cleaning and new towels every day.
Karlsson Mats
(pasangan)
1 April 2014
The hotel is good location and staff is very good service. The food is very fantastic.
Joanna Zeppelin
(pasangan)
31 March 2014
Very nice resort, cheap and Lovely garden, near everything! Big pool and 1 recommended this resort! Good food and nice staff!
Sandra Nilsson
(Penghunian tunggal)
10 March 2014
We got to stay in a bamboo instead. Then we didn't get any wifi on the entire stay and no one could help us fix it so didn't get what we paid for. And I got really sick from the food one day.
Lars Birkholm
(pasangan)
31 January 2014
big resort with a lovely beach.
Jens fast
(pasangan)
20 January 2014
We had some very nice days at Koh Mook, We arrived by ferry and were happy that our resort was a few steps away, Charlie Beach has the best location on the beach. We enjoyed the pool, the beach, the lunch bar at the beach and the nice restaurant sitting with your feet in the sand. Emerald cave was a fasinating nature adventure.
Pichapa
(pasangan)
1 August 2013
โดยรวมๆ พึงพอใจมาก อยากกลับไปเที่ยวอีก อากาศดี โรแมนติก
Pilada
(pasangan)
1 August 2013
nice locaton, lovely room but less of menu at restaurant
Remo
(pasangan)
29 April 2013
We stayed in a bungalow was smallish but nice. Beautiful private beach
read more