River Kwai Jungle Rafts
Baan Tahsao, Amphor Saiyoke, Kanchanaburi, 70150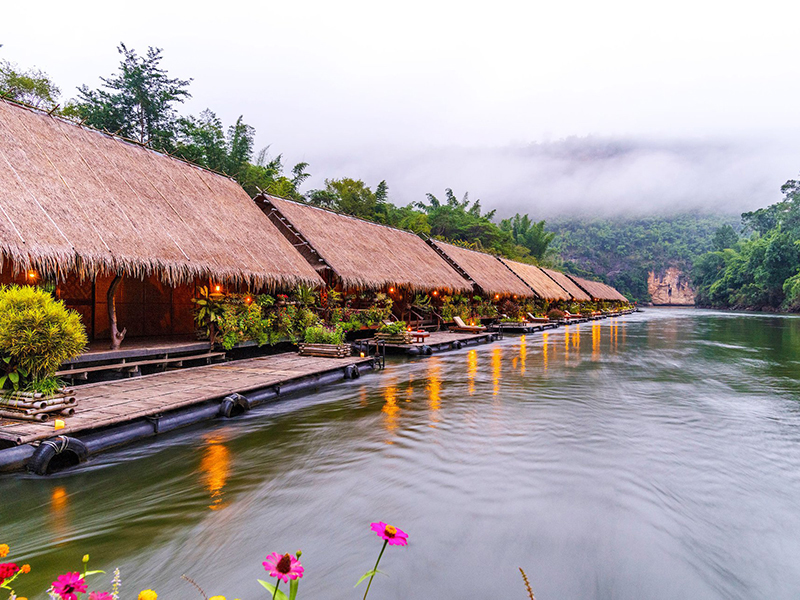 Cosa dicono gli ospiti?:
9.2
"we really loved your hotel and area, I have recommended it to lots of people and would love to return one day"
Yanni Willis
8.8
"บรรยากาศดีมากเลยคะ ชอบคะ พนักงานบริการดี มีกิจกรรมให้เล่นเยอะดีคะ"
ศิรประภา
8
"ไปมาเมื่อต้นปีค่ะ...บรรยากาศดีมากค่ะ ไม่ร้อนอย่างที่คิด ที่รีสอร์ทก็มีกิจกรรมเยอะแยะมากมายให้ทำค่ะ ชอบที่นี้มากๆค่ะ"
Nipa
dettaglio
River Kwai Jungle Rafts è una destinazione ideale per tutti coloro che cerca non solo un luogo magico di fuga, ma anche di una leggenda da vivere. La tua visita sarà premiato con una esperienza indimenticabile per tutta la vita che una volta che abbia mai fatto durante la notte lungo la storica fiume Kwai.
Facilità
Amenità
servizi per disabili
ascensore
piano esecutivo
camera familiare
sale riunioni
ristorante
cassetta di sicurezza
salone
negozi
fumatori
parcheggio
Sport e tempo libero
bar / pub
biciclette in affitto
caffetteria
night club
bar della piscina
giardino
campo da golf in loco
sala fitness
piscina coperta
jacuzzi
club per bambini
massaggio
piscina all'aperto
piscina (bambini)
sauna
terme
campi da squash
bagno di vapore
campi da tennis
casinò
Servizi
24 ore di servizio
auto trasferimento
babysitter
business centre
concierge
servizio lavanderia
pet è permesso
tournée
Wi-Fi nelle aree pubbliche
accesso internet - LAN
accesso internet - LAN (a pagamento)
accesso a Internet - wireless (senza spese)
servizio in camera
culla
recensioni del cliente
ศิรประภา..
(coppie)
31 July 2017
บรรยากาศดีมากเลยคะ ชอบคะ พนักงานบริการดี มีกิจกรรมให้เล่นเยอะดีคะ
Yanni Willis
(coppie)
8 June 2012
we really loved your hotel and area, I have recommended it to lots of people and would love to return one day
Nipa
(altri)
26 August 2011
ไปมาเมื่อต้นปีค่ะ...บรรยากาศดีมากค่ะ ไม่ร้อนอย่างที่คิด ที่รีสอร์ทก็มีกิจกรรมเยอะแยะมากมายให้ทำค่ะ ชอบที่นี้มากๆค่ะ