P.P. Palm Tree Resort
129 Moo 7 T. Aonang A. Muang, Krabi, 81000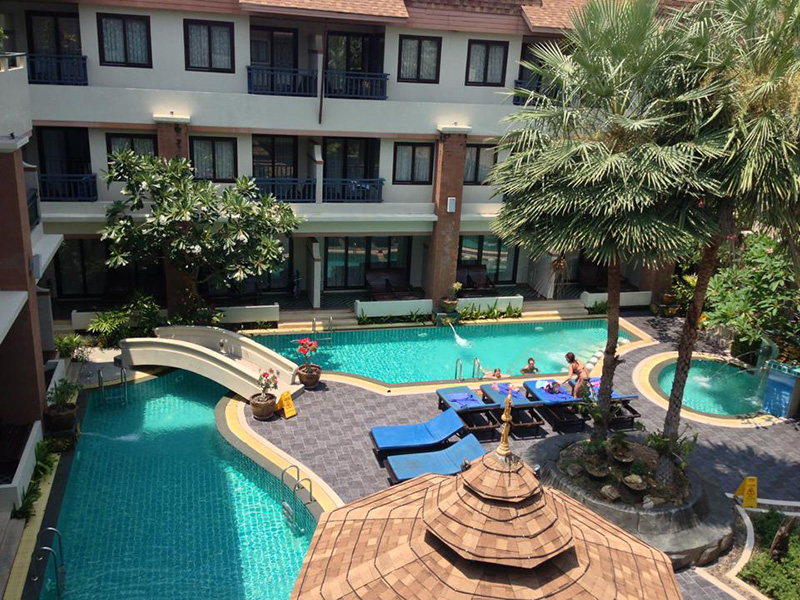 Cosa dicono gli ospiti?:
10
" Perfect! Everthing was good!!"
Bowman
9.8
"Everything was perfect! The resort was splendid!"
Barbara Smet
Cristina Ionescu
9.4
"Was unhappy about not being allowed to bring a guest back at night. Other than that I was very happy with staff and facilities."
David Malone
9.4
"Perfect! The location of the hotel is good. Staff is so friendly."
Cristina
dettaglio
PP Palm Tree Resort è una struttura moderna situata al centro dell'isola. Il resort offre una gamma completa di comfort e servizi a tutti gli ospiti 40 camere con 3 tipologie di camera principale è Deluxe Room, Pool Access Room e Palm Tree Suite.
Facilità
Amenità
servizi per disabili
ascensore
piano esecutivo
camera familiare
sale riunioni
ristorante
cassetta di sicurezza
salone
negozi
fumatori
parcheggio
Sport e tempo libero
bar / pub
biciclette in affitto
caffetteria
night club
bar della piscina
giardino
campo da golf in loco
sala fitness
piscina coperta
jacuzzi
club per bambini
massaggio
piscina all'aperto
piscina (bambini)
sauna
terme
campi da squash
bagno di vapore
campi da tennis
casinò
Servizi
24 ore di servizio
auto trasferimento
babysitter
business centre
concierge
servizio lavanderia
pet è permesso
tournée
Wi-Fi nelle aree pubbliche
accesso internet - LAN
accesso internet - LAN (a pagamento)
accesso a Internet - wireless (senza spese)
servizio in camera
culla
recensioni del cliente
Stephane Kovatchev
(coppie)
31 August 2015
would recommend, lovely hotel !
Jillian Sharples
(coppie)
31 August 2015
The only major downfall to my stay was the bedbugs in my room. Other than that everything was great and the staff were extremely polite, helpful, and kind.
Bhupinder Purewal
(coppie)
2 February 2015
Great stay here. I will definately be staying on my next trip.
Irina Hossu
(altri)
1 November 2014
rooms are very modern and clean.
Nicholas Tomlinson
(coppie)
2 September 2014
This hotel was good value for money. The rooms were nice, good size, clean. The pool was a nice size considering the size of the hotel and also clean.
Leelawadee
(altri)
1 May 2014
ห้องพักและบริเวณโรงแรมสะอาด สะดวกสบายหรูหรา อยู่ในแหล่งชุมชนจึงสามารถเดินไปเที่ยวตลาด ไปชายหาดโละดาลัม ซื้อทัวร์ ไปจุดชมวิว และร้านอาหารได้สบายๆ
Yaara Raski
(coppie)
1 May 2014
The rooms look newly conditioned and the hotel pool is very nice and clean. Service staff are not so freiendly and don't seems to understand english.
Huw Crwys-Williams
(coppie)
1 May 2014
this is a good hotel option in phi phi, clean, spacious, nice service.
Uzi Zaray
(coppie)
31 March 2014
nice balcony giving on the swimming pool,
ANTON WENTZEL
(altri)
31 March 2014
very good hotel. Nice rooms and pool.
Per saperne di più