Kohngai Cliff Beach
36 Moo 4, Koh Ngai, Koh Lanta, Krabi, 81150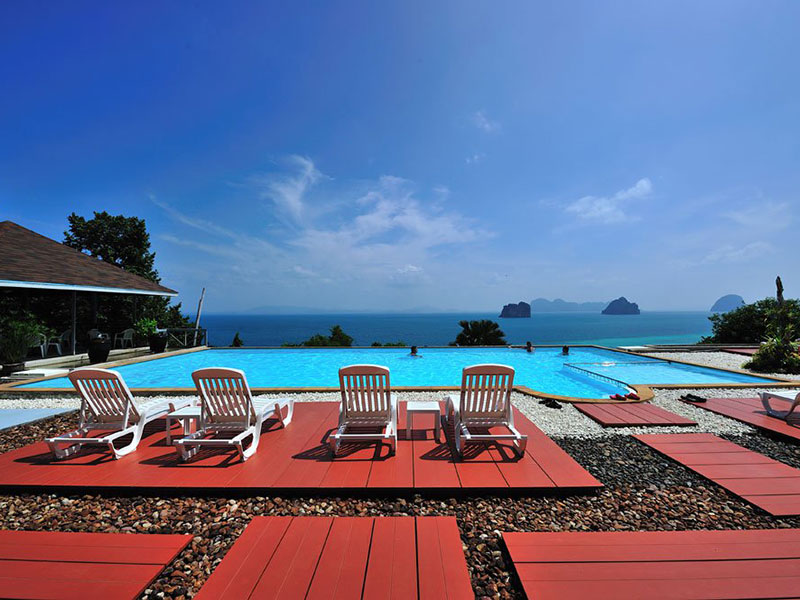 Cosa dicono gli ospiti?:
7.8
"we went to breakfast at 9am, was supposed to go on until 10am, but was all cleared away at 9:30am. The price of a bottle of water was way too much. The internet did not work at all while we were there. These are all the negative points to mention things that could be improved! The lady on reception was lovely"
Duangnapa
dettaglio
Koh Ngai Cliff Beach Resort, un resort di lusso con una combinazione di 36 camere. Tutte le camere offrono il comfort di privacy tra cui proprio balcone vista che domina l'oceano. Le spaziose camere del Koh Ngai Cliff Beach Resort include un bagno, reti private via cavo / satellite e frigorifero. Tutte le camere sono climatizzate e dotate di acqua in bottiglia.
Facilità
Amenità
servizi per disabili
ascensore
piano esecutivo
camera familiare
sale riunioni
ristorante
cassetta di sicurezza
salone
negozi
fumatori
parcheggio
Sport e tempo libero
bar / pub
biciclette in affitto
caffetteria
night club
bar della piscina
giardino
campo da golf in loco
sala fitness
piscina coperta
jacuzzi
club per bambini
massaggio
piscina all'aperto
piscina (bambini)
sauna
terme
campi da squash
bagno di vapore
campi da tennis
casinò
Servizi
24 ore di servizio
auto trasferimento
babysitter
business centre
concierge
servizio lavanderia
pet è permesso
tournée
Wi-Fi nelle aree pubbliche
accesso internet - LAN
accesso internet - LAN (a pagamento)
accesso a Internet - wireless (senza spese)
servizio in camera
culla
recensioni del cliente
Duangnapa
(coppie)
25 May 2012
we went to breakfast at 9am, was supposed to go on until 10am, but was all cleared away at 9:30am. The price of a bottle of water was way too much. The internet did not work at all while we were there. These are all the negative points to mention things that could be improved! The lady on reception was lovely