Thong Ta Resort & Spa
1894 Ladkrabang Road, Ladkrabang, Bangkok, 10520 (2 סקירה)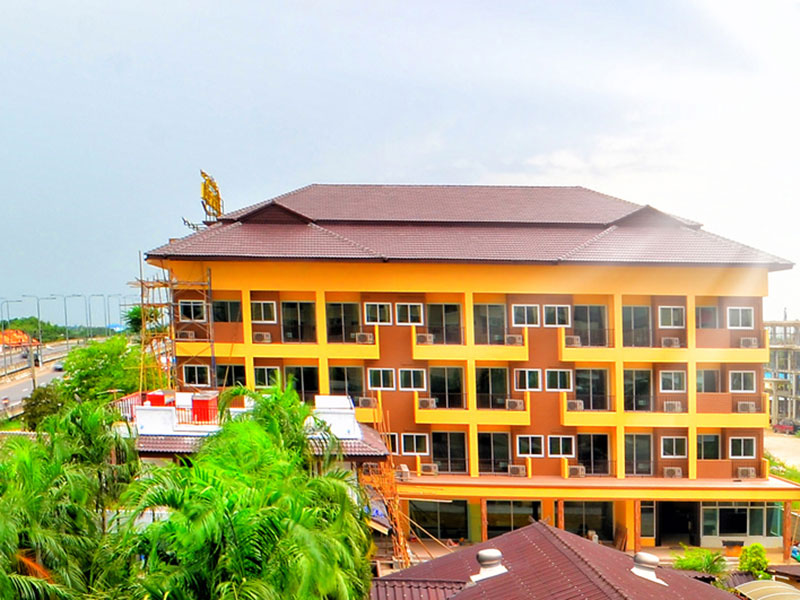 What are the Guests saying?:
8
"ที่พักโอเคค่ะ สะดวกสบาย ตอนจองเป็นราคาโปรเลยไม่มีอาหารเช้าแต่ว่า ที่นี่ห้องพักรวมค่ารถรับส่งสนามบินให้แล้ว ก็ถือว่า service ดีค่ะ สะดวกต่อการขึ้นเครื่องด้วยเพราะออกเช้ามาก"
Kanlayanee
8
"ห้องพักสะอาด สะดวกสบาย โรงแรมสะอาดดี โดยรวมถือว่าโอเค"
Nanthapon
פרט
Just 5 minutes' drive from Suvarnabhumi International Airport, Thong Ta Resort And Spa offers 24-hour transfer from Suvarnabhumi Airport and free WiFi in rooms. It has a restaurant and souvenir shop.

Thong Ta Resort's air-conditioned rooms come with a balcony and private bathroom with free toiletries. Featuring dark wood furnishings, each room has satellite TV, a minibar and a hairdryer.

Guests can enjoy a traditional Thai massage at the spa. The resort provides car rental and tour arrangements, as well as laundry and dry cleaning services. Safety deposit boxes are available at the 24-hour front desk.

American breakfast is served daily, while drinks are offered at the bar.

Thong Ta Resort And Spa (Suvarnabhumi Airport) is a 30-minute drive away from the Seacon Square shopping area. Nearby attractions include Ancient City, the world's biggest open-air museum, and Samut Prakarn Crocodile Farm and Zoo.

Thong Ta Resort and Spa Bangkok is situated in Lad Krabang Road. Each room is well furnished with private balcony, full range of amenities including air-conditioner, hot and cold shower, cable TV, telephone, mini bar and 24 hours room service. לפרטים נוספים..
מתקנים
נוחויות
גישה לנכים
מעלית
מנהל הרצפה
חדר משפחה
חדרי ישיבות
מסעדה
כספות
סלון
חנויות
חדר עישון
מגרש חניה
ספורט ונופש
פאב
השכרת אופניים
בית קפה
מועדון לילה
בר לצד הבריכה
גינה
מסלול גולף (באתר בית המלון)
חדר כושר
בריכה מקורה
ג'קוזי
מועדון לילדים
עיסוי
בריכה חיצונית
בריכה (ילדים)
סאונה
ספא
מגרשי סקווש
חדר אדים
מגרשי טניס
קזינו
שירותים
שירות חדרים 24 שעות ביממה
הובלה מהמלון/נמל תעופה
שמרטפות
מרכז עסקים
שוער
שירות כביסה/ניקוי יבש
טיולים
רשת אלחוטית באזורים ציבוריים
חיבור לאינטרנט (ללא תשלום)
חיבור לאינטרנט (בתשלום)
חיבור אלחוטי לאינטרנט (ללא תשלום)
שעות ביממה
سرير طفل
סקירות של לקוחות
Nanthapon
(الأزواج)
(8)
19 February 2020
ห้องพักสะอาด สะดวกสบาย โรงแรมสะอาดดี โดยรวมถือว่าโอเค
Kanlayanee
(مسافرين من رجال الأعمال)
(8)
19 September 2015
ที่พักโอเคค่ะ สะดวกสบาย ตอนจองเป็นราคาโปรเลยไม่มีอาหารเช้าแต่ว่า ที่นี่ห้องพักรวมค่ารถรับส่งสนามบินให้แล้ว ก็ถือว่า service ดีค่ะ สะดวกต่อการขึ้นเครื่องด้วยเพราะออกเช้ามาก