P.P. Palm Tree Resort
129 Moo 7 T. Aonang A. Muang, Krabi, 81000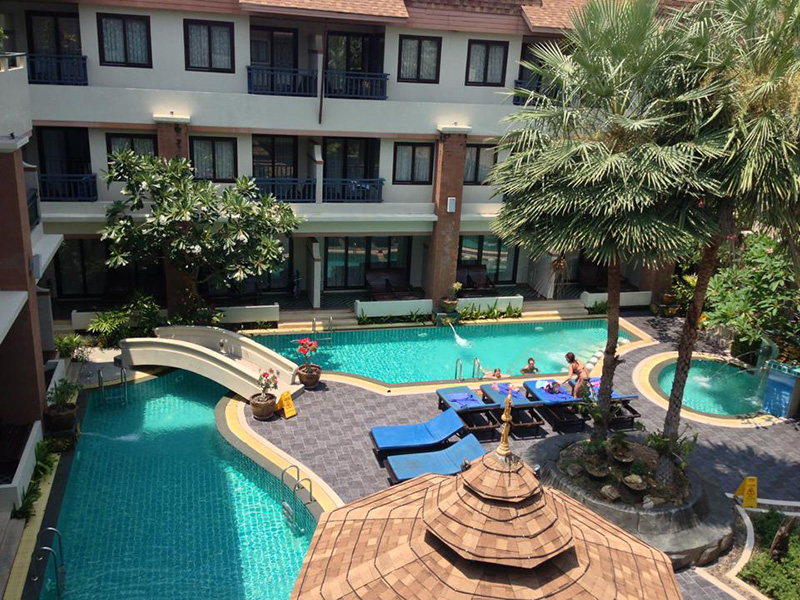 Mit mondanak a vendégek?:
10
" Perfect! Everthing was good!!"
Bowman
9.8
"Everything was perfect! The resort was splendid!"
Barbara Smet
Cristina Ionescu
9.4
"Was unhappy about not being allowed to bring a guest back at night. Other than that I was very happy with staff and facilities."
David Malone
9.4
"Perfect! The location of the hotel is good. Staff is so friendly."
Cristina
Részlet
PP Palm Tree Resort egy modern üdülőhely központjában a sziget. Az üdülőhely teljes körű komfort és létesítmények összes vendég 40 szobával és 3 fő szoba típusok Deluxe Room, Pool Access Room és Palm Tree Suite.
Berendezések
Berendezések
létesítmények mozgáskorlátozottaknak
lift
executive emelet
családi szoba
tárgyaló/bankett létesítmények
étterem
széf
szalon
üzletek a szállás területén
dohányzó szoba
parkoló
Sport és kikapcsolódás
bár
kerékpár kölcsönzés
kávébolt
nightclub
bár a medencénél
kert
golfpálya (a helyszínen)
konditerem/fitnesz lehetőségek
belső medence
jacuzzi
gyerekklub
masszázs
külső medence
medence (gyerekeknek)
szauna
gyógyfürdő
squash pályák
gőzkabin
teniszpályák
kaszinó
Szolgáltatások
24 órás szobaszerviz
hotel/reptér transzfer
gyermekfelügyelet
business center
gondnok
mosoda
háziállatok engedélyezettek
túrák
Wi-Fi a közterületeken
internetkapcsolat (ingyenes)
internetkapcsolat (fizetős)
vezeték nélküli internetkapcsolat (ingyenes)
szobaszerviz
gyermekágy
Vásárlói vélemények
Stephane Kovatchev
(párok)
31 August 2015
would recommend, lovely hotel !
Jillian Sharples
(párok)
31 August 2015
The only major downfall to my stay was the bedbugs in my room. Other than that everything was great and the staff were extremely polite, helpful, and kind.
Bhupinder Purewal
(párok)
2 February 2015
Great stay here. I will definately be staying on my next trip.
Irina Hossu
(mások)
1 November 2014
rooms are very modern and clean.
Nicholas Tomlinson
(párok)
2 September 2014
This hotel was good value for money. The rooms were nice, good size, clean. The pool was a nice size considering the size of the hotel and also clean.
Leelawadee
(mások)
1 May 2014
ห้องพักและบริเวณโรงแรมสะอาด สะดวกสบายหรูหรา อยู่ในแหล่งชุมชนจึงสามารถเดินไปเที่ยวตลาด ไปชายหาดโละดาลัม ซื้อทัวร์ ไปจุดชมวิว และร้านอาหารได้สบายๆ
Yaara Raski
(párok)
1 May 2014
The rooms look newly conditioned and the hotel pool is very nice and clean. Service staff are not so freiendly and don't seems to understand english.
Huw Crwys-Williams
(párok)
1 May 2014
this is a good hotel option in phi phi, clean, spacious, nice service.
Uzi Zaray
(párok)
31 March 2014
nice balcony giving on the swimming pool,
ANTON WENTZEL
(mások)
31 March 2014
very good hotel. Nice rooms and pool.
Tovább