Koh Mook Charlie Beach Resort
164 Moo 2, Koh Mook, A. Kantang, Trang, 92110 (27 Felülvizsgálja)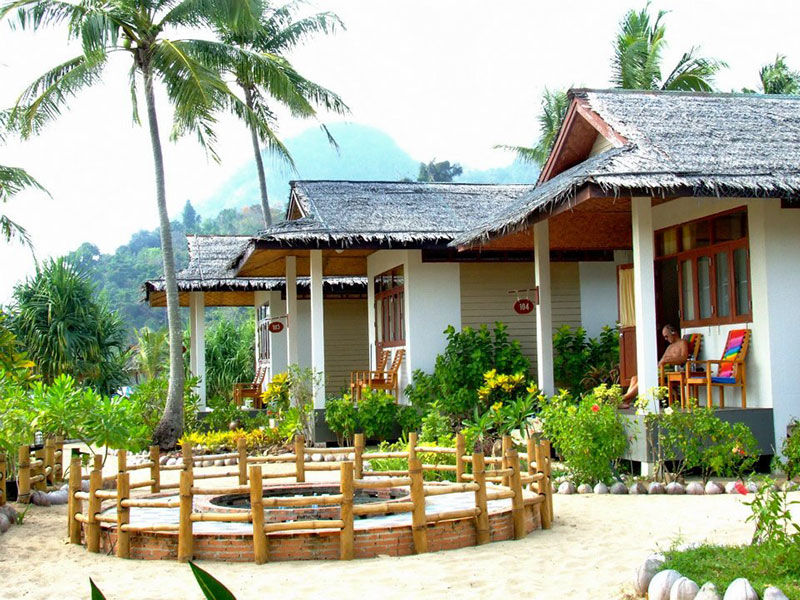 Mit mondanak a vendégek?:
9.8
"nice locaton, lovely room but less of menu at restaurant"
Pilada
9.6
"There's a great location and lovely staff. "
Liv Lange Rohrer
9.2
"We will come back to Charlie beach hotell. Thank you for a wounderful week!!"
Margareta Johansson
9
"We stayed in a bungalow was smallish but nice. Beautiful private beach"
Remo
8.8
"Best option on the island since it's comfortabe."
Magarette
Részlet
Koh Mook Charlie Beach Resort található, a nyugati oldalán Koh Mook, figyelemre méltó, fehér homokos tengerpart, a trópusi táj veszi körül, kristálytiszta víz a Sun-set légkörben. Koh Mook Charlie Beach széles választékát kínálja a bungalók, néhány bambuszból. Felszerelt vagy egy ventilátor vagy légkondicionáló, mindnyájan egy hűtőszekrény. A fürdőszoba vagy közös, vagy magán, és zuhanyzó létesítményeket. Tovább..
Berendezések
Berendezések
létesítmények mozgáskorlátozottaknak
lift
executive emelet
családi szoba
tárgyaló/bankett létesítmények
étterem
széf
szalon
üzletek a szállás területén
dohányzó szoba
parkoló
Sport és kikapcsolódás
bár
kerékpár kölcsönzés
kávébolt
nightclub
bár a medencénél
kert
golfpálya (a helyszínen)
konditerem/fitnesz lehetőségek
belső medence
jacuzzi
gyerekklub
masszázs
külső medence
medence (gyerekeknek)
szauna
gyógyfürdő
squash pályák
gőzkabin
teniszpályák
kaszinó
Szolgáltatások
24 órás szobaszerviz
hotel/reptér transzfer
gyermekfelügyelet
business center
gondnok
mosoda
háziállatok engedélyezettek
túrák
Wi-Fi a közterületeken
internetkapcsolat (ingyenes)
internetkapcsolat (fizetős)
vezeték nélküli internetkapcsolat (ingyenes)
szobaszerviz
gyermekágy
Vásárlói vélemények
อัศณีย์..
(mások)
30 December 2014
ห้องพักสะดวก สบายเหมาะกับราคา เงียบสงบ ติดชายหาด เหมาะกับทั้งเที่ยวเป็นกลุ่มกับเพื่อน หรือฮันนีมูน
Martin
(párok)
1 April 2014
Very relaxing, good buffet breakfast,Cleaning and new towels every day.
Karlsson Mats
(párok)
1 April 2014
The hotel is good location and staff is very good service. The food is very fantastic.
Joanna Zeppelin
(párok)
31 March 2014
Very nice resort, cheap and Lovely garden, near everything! Big pool and 1 recommended this resort! Good food and nice staff!
Sandra Nilsson
(Egyszemélyes szállás)
10 March 2014
We got to stay in a bamboo instead. Then we didn't get any wifi on the entire stay and no one could help us fix it so didn't get what we paid for. And I got really sick from the food one day.
Lars Birkholm
(párok)
31 January 2014
big resort with a lovely beach.
Jens fast
(párok)
20 January 2014
We had some very nice days at Koh Mook, We arrived by ferry and were happy that our resort was a few steps away, Charlie Beach has the best location on the beach. We enjoyed the pool, the beach, the lunch bar at the beach and the nice restaurant sitting with your feet in the sand. Emerald cave was a fasinating nature adventure.
Pichapa
(párok)
1 August 2013
โดยรวมๆ พึงพอใจมาก อยากกลับไปเที่ยวอีก อากาศดี โรแมนติก
Pilada
(párok)
1 August 2013
nice locaton, lovely room but less of menu at restaurant
Remo
(párok)
29 April 2013
We stayed in a bungalow was smallish but nice. Beautiful private beach
Tovább