The Racha
42/12-13 Moo 5 Rawai, A. Muang, Phuket, 83130 (2 Revue)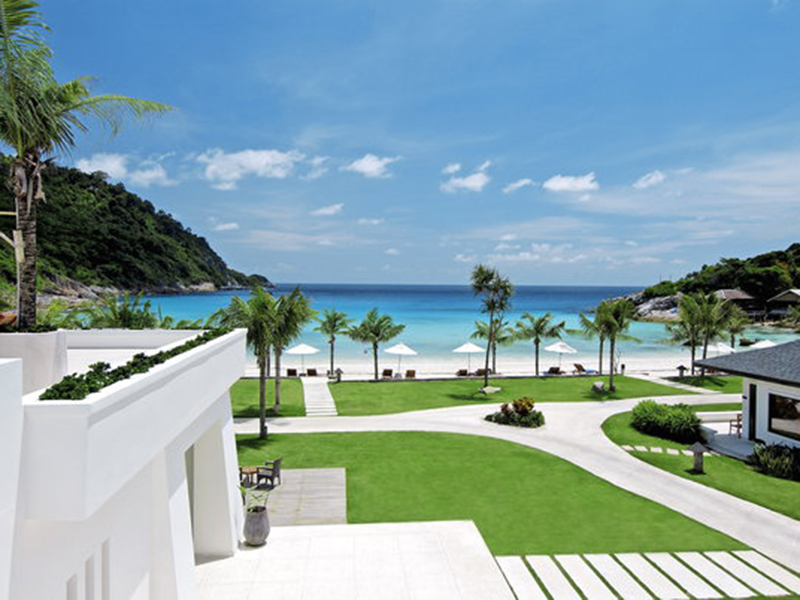 Que disent les invités?:
9
"1. ที่พักและชายหาดสวยงามมาก 2. ตอนไปคนเข้าพักเต็ม จึงทำให้อุปกรณ์ดำน้ำไม่เพียงพอ อยากให้เพิ่มค่ะ"
เพ็ยศิริ
7
"เป็นส่วนตัวมากสำหรับที่นี้ ผมชอบน่ะ แต่ติดที่ต้นไม้น้อย อากาศร้อนมาก โดยรวม ผมให้ 3 ดาวครับ"
Tony
Room is not available on your selected period.
Détails
The Racha est une station balnéaire de luxe sur l'île de Racha, à seulement 12 miles au sud de Phuket, à seulement 35 minutes en bateau rapide depuis la jetée de Chalong-bay. The Racha propose 85 villas de luxe et s'efforce d'être reconnu comme un leader dans le tourisme responsable et écologiquement durable.

The Racha a été conçu pour se fondre dans le terrain existant de l a terre et on a pris soin d'assurer les 69 luxueuses villas de plain-pied et des bâtiments annexes ne dépassent pas, comme les pouces endoloris exécutant le profil de la nature du terrain. en lire plus..
Installations
Facilité
accès handicapés
étage exécutif
salle familiale
salle de réunion
restaurant
boîte safty
salon
magasins
fumoir
parking
Sport et des loisirs
bar / pub
location de vélos
coffee shop
boîte de nuit
bar de la piscine
de jardin
golf (sur site)
salle de fitness
piscine intérieure
jacuzzi
kids club
massages
piscine extérieure
piscine (enfants)
un sauna
spa
courts de squash
hammam
courts de tennis
kasino
Les Services
24hr service
transfert aéroport
baby-sitting
centre d'affaires
conciergerie
blanchisserie
tournée
WiFi zone publique
LAN-sans frais
LAN-frais
WiFi-sans frais
service de chambre
lit bébé
Commentaire du client
เพ็ยศิริ..
(des couples)
(9)
30 November 2012
1. ที่พักและชายหาดสวยงามมาก 2. ตอนไปคนเข้าพักเต็ม จึงทำให้อุปกรณ์ดำน้ำไม่เพียงพอ อยากให้เพิ่มค่ะ
Tony
(autres)
(7)
30 August 2011
เป็นส่วนตัวมากสำหรับที่นี้ ผมชอบน่ะ แต่ติดที่ต้นไม้น้อย อากาศร้อนมาก โดยรวม ผมให้ 3 ดาวครับ