Pai Hotspring
84-84/1 Moo 2, T. Mae Hee, A. Pai, Maehongson, 58130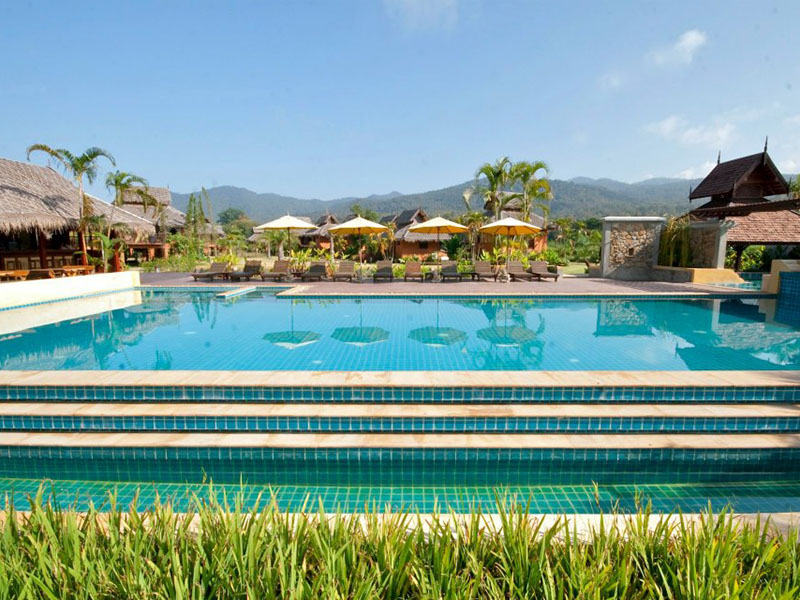 Que disent les invités?:
9
"ได้ไปพักมาเมื่อ ต.ค. 52 ที่ห้อง Chalet Mountain View ห้องปรับปรุงใหม่สวยหรูสะดวกสบายทีวีจอแบบ มีอ่างน้ำหน้าระเบียงด้วย แต่เปิดโล่งมากไป ไม่ค่อยส่วนตัวเท่าไร ติดใจตรงบรรยากาศท้องทุ่งที่นี่"
Jirapong
8.6
"รีสอร์ทสวย บริการดีมาก บรรยากาศก็ดี มีโอกาสหน้าจะกลับไปพักอีก"
สุภาวดี
7
"ไปพักช่วงปีใหม่ อากาศเย็นๆ มีบ่อน้ำร้อนให้แช่น้ำอุ่นๆสบายตัวจริงๆ โดยเฉพาะอากาศยามเช้าเย็นสดชื่น ที่พักสะอาด"
Pawinee
Détails
Pai Hotsprings Spa Resort offers hotspring public pools and overnight guestrooms with mineral spring water piped into each bathroom. Our guests can enjoy soaking in private-room tubs or in public pools. All the hotspring bathing features modern facilities and marvelously services.
Installations
Facilité
accès handicapés
étage exécutif
salle familiale
salle de réunion
restaurant
boîte safty
salon
magasins
fumoir
parking
Sport et des loisirs
bar / pub
location de vélos
coffee shop
boîte de nuit
bar de la piscine
de jardin
golf (sur site)
salle de fitness
piscine intérieure
jacuzzi
kids club
massages
piscine extérieure
piscine (enfants)
un sauna
spa
courts de squash
hammam
courts de tennis
kasino
Les Services
24hr service
transfert aéroport
baby-sitting
centre d'affaires
conciergerie
blanchisserie
animaux admis
tournée
WiFi zone publique
LAN-sans frais
LAN-frais
WiFi-sans frais
service de chambre
lit bébé
Commentaire du client
สุภาวดี..
(Occupation simple)
2 February 2014
รีสอร์ทสวย บริการดีมาก บรรยากาศก็ดี มีโอกาสหน้าจะกลับไปพักอีก
Pawinee
(autres)
19 August 2011
ไปพักช่วงปีใหม่ อากาศเย็นๆ มีบ่อน้ำร้อนให้แช่น้ำอุ่นๆสบายตัวจริงๆ โดยเฉพาะอากาศยามเช้าเย็นสดชื่น ที่พักสะอาด
Jirapong
(autres)
16 August 2011
ได้ไปพักมาเมื่อ ต.ค. 52 ที่ห้อง Chalet Mountain View ห้องปรับปรุงใหม่สวยหรูสะดวกสบายทีวีจอแบบ มีอ่างน้ำหน้าระเบียงด้วย แต่เปิดโล่งมากไป ไม่ค่อยส่วนตัวเท่าไร ติดใจตรงบรรยากาศท้องทุ่งที่นี่