Koh Mook Charlie Beach Resort
164 Moo 2, Koh Mook, A. Kantang, Trang, 92110 (27 Revue)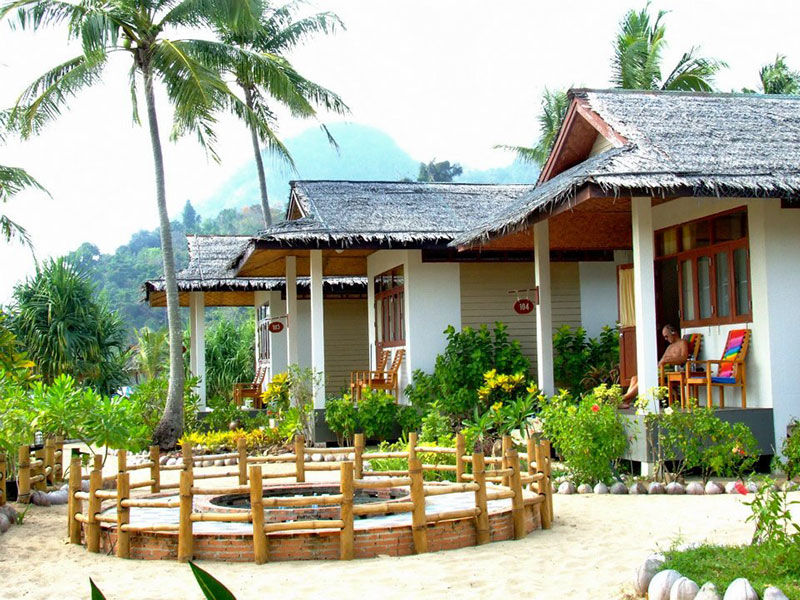 Que disent les invités?:
9.8
"nice locaton, lovely room but less of menu at restaurant"
Pilada
9.6
"There's a great location and lovely staff. "
Liv Lange Rohrer
9.2
"We will come back to Charlie beach hotell. Thank you for a wounderful week!!"
Margareta Johansson
9
"We stayed in a bungalow was smallish but nice. Beautiful private beach"
Remo
8.8
"Best option on the island since it's comfortabe."
Magarette
Détails
Koh Mook Charlie Beach Resort est situé sur le côté ouest de Koh Mook, remarquable avec plage de sable blanc, paysage tropical entouré, une eau cristalline avec le coucher du soleil atmosphère. Koh Mook Charlie Beach propose une gamme de bungalows, certains fabriqués à partir de bambou. Équipé d'un ventilateur ou climatisation, toutes dotées d'un réfrigérateur. Les salles de ba ins partagée ou privée, et équipées d'installations de douche. en lire plus..
Installations
Facilité
accès handicapés
étage exécutif
salle familiale
salle de réunion
restaurant
boîte safty
salon
magasins
fumoir
parking
Sport et des loisirs
bar / pub
location de vélos
coffee shop
boîte de nuit
bar de la piscine
de jardin
golf (sur site)
salle de fitness
piscine intérieure
jacuzzi
kids club
massages
piscine extérieure
piscine (enfants)
un sauna
spa
courts de squash
hammam
courts de tennis
kasino
Les Services
24hr service
transfert aéroport
baby-sitting
centre d'affaires
conciergerie
blanchisserie
animaux admis
tournée
WiFi zone publique
LAN-sans frais
LAN-frais
WiFi-sans frais
service de chambre
lit bébé
Commentaire du client
อัศณีย์..
(autres)
30 December 2014
ห้องพักสะดวก สบายเหมาะกับราคา เงียบสงบ ติดชายหาด เหมาะกับทั้งเที่ยวเป็นกลุ่มกับเพื่อน หรือฮันนีมูน
Martin
(des couples)
1 April 2014
Very relaxing, good buffet breakfast,Cleaning and new towels every day.
Karlsson Mats
(des couples)
1 April 2014
The hotel is good location and staff is very good service. The food is very fantastic.
Joanna Zeppelin
(des couples)
31 March 2014
Very nice resort, cheap and Lovely garden, near everything! Big pool and 1 recommended this resort! Good food and nice staff!
Sandra Nilsson
(Occupation simple)
10 March 2014
We got to stay in a bamboo instead. Then we didn't get any wifi on the entire stay and no one could help us fix it so didn't get what we paid for. And I got really sick from the food one day.
Lars Birkholm
(des couples)
31 January 2014
big resort with a lovely beach.
Jens fast
(des couples)
20 January 2014
We had some very nice days at Koh Mook, We arrived by ferry and were happy that our resort was a few steps away, Charlie Beach has the best location on the beach. We enjoyed the pool, the beach, the lunch bar at the beach and the nice restaurant sitting with your feet in the sand. Emerald cave was a fasinating nature adventure.
Pichapa
(des couples)
1 August 2013
โดยรวมๆ พึงพอใจมาก อยากกลับไปเที่ยวอีก อากาศดี โรแมนติก
Pilada
(des couples)
1 August 2013
nice locaton, lovely room but less of menu at restaurant
Remo
(des couples)
29 April 2013
We stayed in a bungalow was smallish but nice. Beautiful private beach
en lire plus