Kanokrat Resort
50/5 soi fai-fah T. Baanprok A. Muang, Samutsongkarm, 75000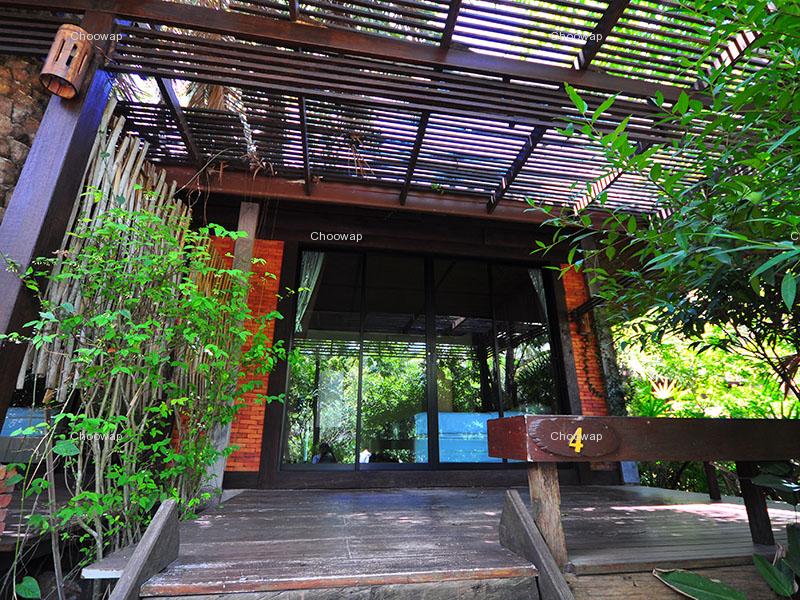 Que disent les invités?:
8.2
"โดยรวมโอเคค่ะแต่คิดว่าจะได้ติดน้ำรึไม่ใช่หันหน้าเข้าหาฝั่งที่กำลังก่อสร้างเท่านั้นเอง ในตุ้เย็นน่าใส่อะไรเพิ่มนิด นอกจากน้ำเปล่า ทีวีน่าเปลี่ยนเปนLCD มากกว่า พนักงานบริการดีนะช่วยยกกระเป๋าด้วย แต่ที่จอดรถน่าจะทำรวมกันไม่น่าแยกประตุ ในห้องน่าจะมีโทรศัพท์ไว้เผื่อสั่งอาหาร :) โดยรวมโอเคตามราคา "
Fon
8
"บรรยากาศดีมากเลยครับ อาหารก็อร่อยครับ"
Tanyap
7.2
"ผมไปพักครั้งที่3 แล้วครับก็โอเคครับ ไม่มีอะไรมากครับ แต่ที่จอดรถจะมีน้อยไปหน่อยครับ อาหารเช้าผมไม่ค่อยได้กินครับ บางครั้งผมจะรีบออกที่พักไปทำงาน"
numpol
Détails
Kanokrat Resort is situated at 50/5 soi fai-fah T. Baanprok A. Muang, away from Ampawa Floating Market 2.4 km.

Kanokrat Resort one which has feeling of true nature that conserved as it was. Each room include mini bar, color TV with satellite channel, individual climate control air conditioning, slippers, wireless high-speed internet access and private bathroom. The faciliti es included lobby area, seminar room and parking.

Whether you're a tourist or traveling on business, Kanokrat Resort is a great choice for accommodation when visiting Samut Songkhram. Situated only 2.4km from the city center, guests are well located to enjoy the town's attractions and activities. With its convenient location, the hotel offers easy access to the city's must-see destinations.

Kanokrat Resort offers impeccable service and all the essential amenities to invigorate travelers. To name a few of the hotel's facilities, there are free Wi-Fi in all rooms, 24-hour front desk, Wi-Fi in public areas, car park.

The ambiance of Kanokrat Resort is reflected in every guestroom. television LCD/plasma screen, internet access – wireless (complimentary), non smoking rooms, air conditioning, desk are just some of the facilities that can be found throughout the property. The hotel offers wonderful recreational facilities such as garden to make your stay truly unforgettable. When you are looking for comfortable and convenient accommodations in Samut Songkhram, make Kanokrat Resort your home away from home. en lire plus..
Installations
Facilité
accès handicapés
étage exécutif
salle familiale
salle de réunion
restaurant
boîte safty
salon
magasins
fumoir
parking
Sport et des loisirs
bar / pub
location de vélos
coffee shop
boîte de nuit
bar de la piscine
de jardin
golf (sur site)
salle de fitness
piscine intérieure
jacuzzi
kids club
massages
piscine extérieure
piscine (enfants)
un sauna
spa
courts de squash
hammam
courts de tennis
kasino
Les Services
24hr service
transfert aéroport
baby-sitting
centre d'affaires
conciergerie
blanchisserie
animaux admis
tournée
WiFi zone publique
LAN-sans frais
LAN-frais
WiFi-sans frais
service de chambre
lit bébé
Commentaire du client
numpol
(Occupation simple)
14 February 2015
ผมไปพักครั้งที่3 แล้วครับก็โอเคครับ ไม่มีอะไรมากครับ แต่ที่จอดรถจะมีน้อยไปหน่อยครับ อาหารเช้าผมไม่ค่อยได้กินครับ บางครั้งผมจะรีบออกที่พักไปทำงาน
Tanyap
(Occupation simple)
25 December 2014
บรรยากาศดีมากเลยครับ อาหารก็อร่อยครับ
Fon
(des familles)
23 May 2014
โดยรวมโอเคค่ะแต่คิดว่าจะได้ติดน้ำรึไม่ใช่หันหน้าเข้าหาฝั่งที่กำลังก่อสร้างเท่านั้นเอง ในตุ้เย็นน่าใส่อะไรเพิ่มนิด นอกจากน้ำเปล่า ทีวีน่าเปลี่ยนเปนLCD มากกว่า พนักงานบริการดีนะช่วยยกกระเป๋าด้วย แต่ที่จอดรถน่าจะทำรวมกันไม่น่าแยกประตุ ในห้องน่าจะมีโทรศัพท์ไว้เผื่อสั่งอาหาร :) โดยรวมโอเคตามราคา