Pai Hotspring
84-84/1 Moo 2, T. Mae Hee, A. Pai, Maehongson, 58130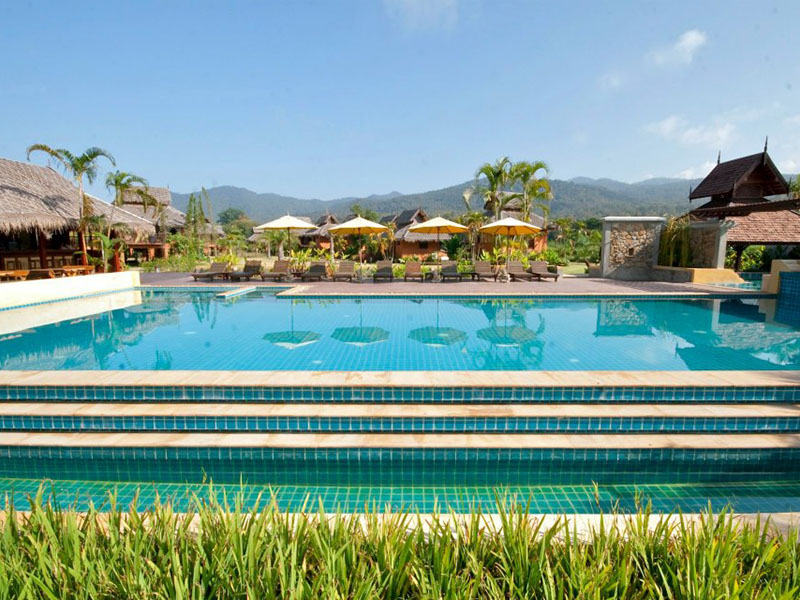 Mitä asiakkaat sanovat?:
9
"ได้ไปพักมาเมื่อ ต.ค. 52 ที่ห้อง Chalet Mountain View ห้องปรับปรุงใหม่สวยหรูสะดวกสบายทีวีจอแบบ มีอ่างน้ำหน้าระเบียงด้วย แต่เปิดโล่งมากไป ไม่ค่อยส่วนตัวเท่าไร ติดใจตรงบรรยากาศท้องทุ่งที่นี่"
Jirapong
8.6
"รีสอร์ทสวย บริการดีมาก บรรยากาศก็ดี มีโอกาสหน้าจะกลับไปพักอีก"
สุภาวดี
7
"ไปพักช่วงปีใหม่ อากาศเย็นๆ มีบ่อน้ำร้อนให้แช่น้ำอุ่นๆสบายตัวจริงๆ โดยเฉพาะอากาศยามเช้าเย็นสดชื่น ที่พักสะอาด"
Pawinee
Yksityiskohta
Pai Hotspring Spa Resort offers hotspring public pools and overnight guestrooms with mineral spring water piped into each bathroom. Our guests can enjoy soaking in private-room tubs or in public pools. All the hotspring bathing features modern facilities and marvelously services.

Pai Hotspring Spa Resort features 68 rooms equipped with modern facilities such as mini bar, tea and coffee making facilities, internet, satellite TV and (for Chalet category) a private balcony. You can also enjoy soaking in mineral hotspring pools, or known as "On-sen" in Japanese, for your utmost comfort. There are three different room characters available to serve your preference.

an oriental chalet styled resort, sits on the riverbank of Pai, a boutique town in Mae Hong Son province of Northern Thailand, where noise and city chaos are absolutely in absence behind the green hills of Mae Hong Sorn allowing only fresh and pure air from surrounding mountain forests to pass through.

This oriental relaxing resort lies in the cuddle of mountains and green forest and uniquely provides mineral hotspring water . Overwhelmed in the most unwinding moment with pure hotspring pools.

Pai Hotspring Spa Resort is by far unparalleled hideaway for those in search of tranquility and private gateway amidst the serene nature in Northern Thailand. Lue lisää ..
Tiloja
Palvelut
vammaisten palvelut
hissi
VIP huonetia
perhehuone
kokoustilat
ravintola
tallelokero
salonki
myymälöitä
tupakkahuone
parkkipaikka
Urheilu ja vapaa-aika
baari / pubi
pyörä vuokraus
kahvila
yökerho
allasbaarissa
puutarha
golfkenttä (lähellä)
kuntosali
uima-allas (sisätiloissa)
poreallas
lastenkerho
hieronta
uima-allas ulkona
uima-allas (lasten)
sauna
kylpylä
squash
höyrysauna
tenniskentät
kasino
Palvelut
24 h huonepalvelu
autokuljetus
lastenhoitaja
liikekeskus
vahtimestari
pesulapalvelu
lemmikit sallia
kiertoajelut
Wi-Fi yleisissä tiloissa
internet - LAN (ilmainen)
internet - LAN (maksut)
internet - yhteys (ilmainen)
huonepalvelu
vauvansänkyä
Asiakkaiden Arvioita
สุภาวดี..
(Yhden hengen käyttöaste)
2 February 2014
รีสอร์ทสวย บริการดีมาก บรรยากาศก็ดี มีโอกาสหน้าจะกลับไปพักอีก
Pawinee
(toiset)
19 August 2011
ไปพักช่วงปีใหม่ อากาศเย็นๆ มีบ่อน้ำร้อนให้แช่น้ำอุ่นๆสบายตัวจริงๆ โดยเฉพาะอากาศยามเช้าเย็นสดชื่น ที่พักสะอาด
Jirapong
(toiset)
16 August 2011
ได้ไปพักมาเมื่อ ต.ค. 52 ที่ห้อง Chalet Mountain View ห้องปรับปรุงใหม่สวยหรูสะดวกสบายทีวีจอแบบ มีอ่างน้ำหน้าระเบียงด้วย แต่เปิดโล่งมากไป ไม่ค่อยส่วนตัวเท่าไร ติดใจตรงบรรยากาศท้องทุ่งที่นี่