Koh Mook Charlie Beach Resort
164 Moo 2, Koh Mook, A. Kantang, Trang, 92110 (27 Arvostelu)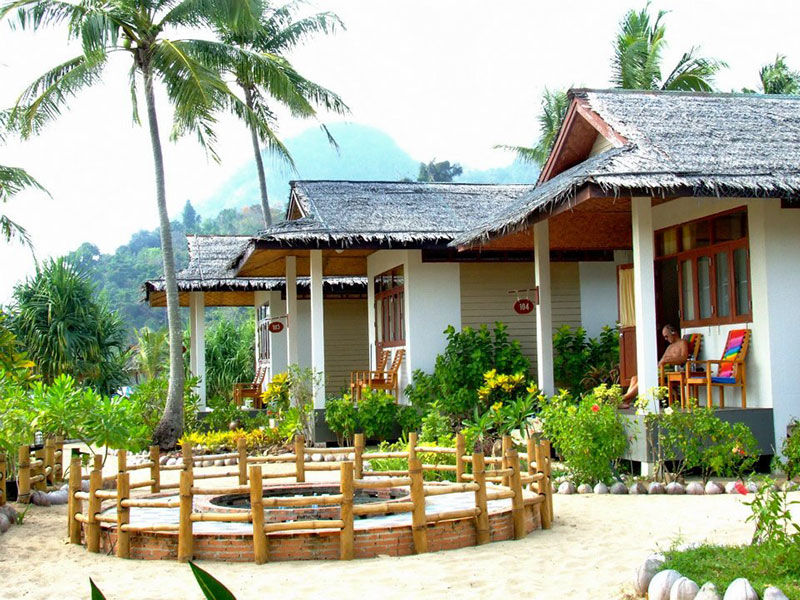 Mitä asiakkaat sanovat?:
9.8
"nice locaton, lovely room but less of menu at restaurant"
Pilada
9.6
"There's a great location and lovely staff. "
Liv Lange Rohrer
9.2
"We will come back to Charlie beach hotell. Thank you for a wounderful week!!"
Margareta Johansson
9
"We stayed in a bungalow was smallish but nice. Beautiful private beach"
Remo
8.8
"Best option on the island since it's comfortabe."
Magarette
Yksityiskohta
Koh Mook Charlie Beach Resort sijaitsee länsipuolella Koh Mook, merkittävä valkoisella hiekkarannalla, trooppinen maisema ympäröi kristallin kirkas vesi ja aurinko-set ilmapiiri. Koh Mook Charlie Beach tarjoaa valikoiman bungaloweja, osa bambusta. Varustettu joko tuuletin tai ilmastointi, kaikissa on jääkaappi. Kylpyhuoneissa on joko jaettu tai yksityisiä, ja niissä on suihku.
Tiloja
Palvelut
vammaisten palvelut
hissi
VIP huonetia
perhehuone
kokoustilat
ravintola
tallelokero
salonki
myymälöitä
tupakkahuone
parkkipaikka
Urheilu ja vapaa-aika
baari / pubi
pyörä vuokraus
kahvila
yökerho
allasbaarissa
puutarha
golfkenttä (lähellä)
kuntosali
uima-allas (sisätiloissa)
poreallas
lastenkerho
hieronta
uima-allas ulkona
uima-allas (lasten)
sauna
kylpylä
squash
höyrysauna
tenniskentät
kasino
Palvelut
24 h huonepalvelu
autokuljetus
lastenhoitaja
liikekeskus
vahtimestari
pesulapalvelu
kiertoajelut
Wi-Fi yleisissä tiloissa
internet - LAN (ilmainen)
internet - LAN (maksut)
internet - yhteys (ilmainen)
huonepalvelu
vauvansänkyä
Asiakkaiden Arvioita
อัศณีย์..
(toiset)
(8)
30 December 2014
ห้องพักสะดวก สบายเหมาะกับราคา เงียบสงบ ติดชายหาด เหมาะกับทั้งเที่ยวเป็นกลุ่มกับเพื่อน หรือฮันนีมูน
Martin
(Couples)
(8.4)
1 April 2014
Very relaxing, good buffet breakfast,Cleaning and new towels every day.
Karlsson Mats
(Couples)
(7.6)
1 April 2014
The hotel is good location and staff is very good service. The food is very fantastic.
Joanna Zeppelin
(Couples)
(7)
31 March 2014
Very nice resort, cheap and Lovely garden, near everything! Big pool and 1 recommended this resort! Good food and nice staff!
Sandra Nilsson
(Yhden hengen käyttöaste)
(6.2)
10 March 2014
We got to stay in a bamboo instead. Then we didn't get any wifi on the entire stay and no one could help us fix it so didn't get what we paid for. And I got really sick from the food one day.
Lars Birkholm
(Couples)
(8.2)
31 January 2014
big resort with a lovely beach.
Jens fast
(Couples)
(8.4)
20 January 2014
We had some very nice days at Koh Mook, We arrived by ferry and were happy that our resort was a few steps away, Charlie Beach has the best location on the beach. We enjoyed the pool, the beach, the lunch bar at the beach and the nice restaurant sitting with your feet in the sand. Emerald cave was a fasinating nature adventure.
Pichapa
(Couples)
(7)
1 August 2013
โดยรวมๆ พึงพอใจมาก อยากกลับไปเที่ยวอีก อากาศดี โรแมนติก
Pilada
(Couples)
(9.8)
1 August 2013
nice locaton, lovely room but less of menu at restaurant
Remo
(Couples)
(9)
29 April 2013
We stayed in a bungalow was smallish but nice. Beautiful private beach
Lue lisää