Baan Laanta Resort & Spa
134 Moo 5, Ko Lanta Yai, Ko Lanta, Krabi, 81150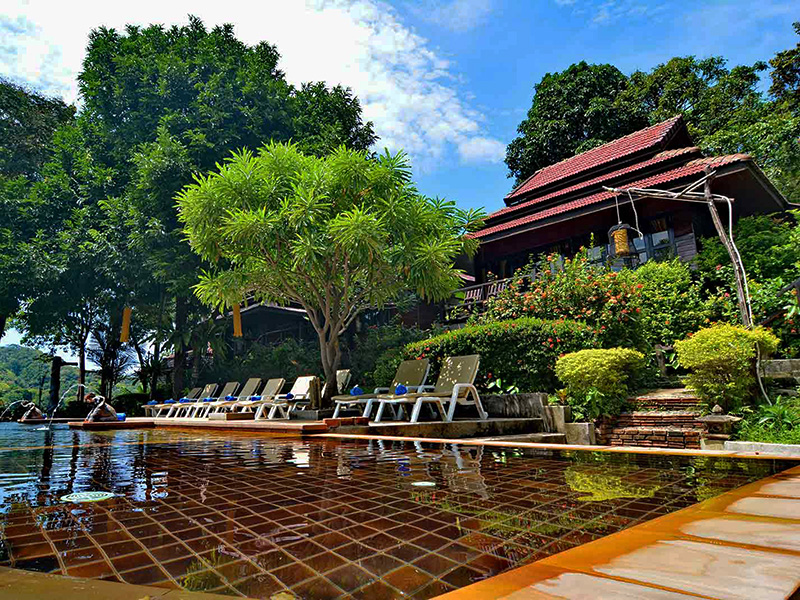 Mitä asiakkaat sanovat?:
7
"บ้านลันตาเป็นรีสอร์ทที่มีประมาณ 10 กว่าห้อง เน้นบรรยากาศเป็นส่วนตัว คนไม่พลุกพล่าน แต่สิ่งอำนวยความสะดวกเยอะ ไม่ว่าจะเป็น สปา, อินเตอร์เนต, รถเช่า, สระว่ายน้ำ ที่นี่อยู่ที่หาดบากันเตียง ถือว่าเป็นหาดที่ค่อนข้างสวยที่สุดในลันตาเลย คราวที่แล้วไปพักห้อง Seaview เป็นทะเลจากด้านบนวิวสวยมากๆ แถมพนักงานยังเป็นกันเองอีก แล้วก็ยังมีบาร์ริมหาดด้วย"
Yksityiskohta
Baan Laanta Resort & Spa is located on Koh Lanta Yai, with 15 luxury bungalow, each of bungalow offer a view of Andaman Sea and at night guest can enjoy gaze at the stars from their own private balcony or taking a stroll along the beach. All bungalows are furnished with elegance of classical Thai decoration.
Tiloja
Palvelut
vammaisten palvelut
hissi
VIP huonetia
perhehuone
kokoustilat
ravintola
tallelokero
salonki
myymälöitä
tupakkahuone
parkkipaikka
Urheilu ja vapaa-aika
baari / pubi
pyörä vuokraus
kahvila
yökerho
allasbaarissa
puutarha
golfkenttä (lähellä)
kuntosali
uima-allas (sisätiloissa)
poreallas
lastenkerho
hieronta
uima-allas ulkona
uima-allas (lasten)
sauna
kylpylä
squash
höyrysauna
tenniskentät
kasino
Palvelut
24 h huonepalvelu
autokuljetus
lastenhoitaja
liikekeskus
vahtimestari
pesulapalvelu
lemmikit sallia
kiertoajelut
Wi-Fi yleisissä tiloissa
internet - LAN (ilmainen)
internet - LAN (maksut)
internet - yhteys (ilmainen)
huonepalvelu
vauvansänkyä
Asiakkaiden Arvioita
(toiset)
21 August 2011
บ้านลันตาเป็นรีสอร์ทที่มีประมาณ 10 กว่าห้อง เน้นบรรยากาศเป็นส่วนตัว คนไม่พลุกพล่าน แต่สิ่งอำนวยความสะดวกเยอะ ไม่ว่าจะเป็น สปา, อินเตอร์เนต, รถเช่า, สระว่ายน้ำ ที่นี่อยู่ที่หาดบากันเตียง ถือว่าเป็นหาดที่ค่อนข้างสวยที่สุดในลันตาเลย คราวที่แล้วไปพักห้อง Seaview เป็นทะเลจากด้านบนวิวสวยมากๆ แถมพนักงานยังเป็นกันเองอีก แล้วก็ยังมีบาร์ริมหาดด้วย