The Racha
42/12-13 Moo 5 Rawai, A. Muang, Phuket, 83130 (2 Revisión)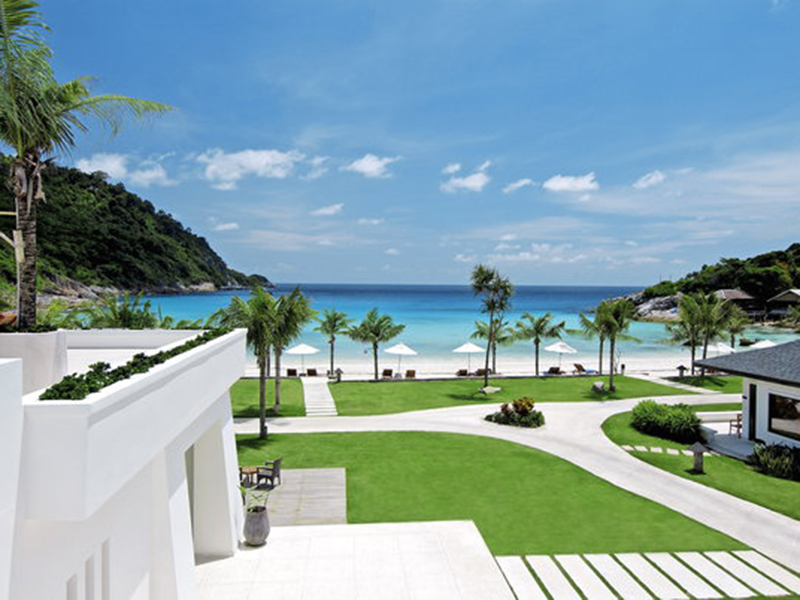 ¿Qué están diciendo los invitados?:
9
"1. ที่พักและชายหาดสวยงามมาก 2. ตอนไปคนเข้าพักเต็ม จึงทำให้อุปกรณ์ดำน้ำไม่เพียงพอ อยากให้เพิ่มค่ะ"
เพ็ยศิริ
7
"เป็นส่วนตัวมากสำหรับที่นี้ ผมชอบน่ะ แต่ติดที่ต้นไม้น้อย อากาศร้อนมาก โดยรวม ผมให้ 3 ดาวครับ"
Tony
Room is not available on your selected period.
Detalle
La Racha es un resort de lujo en la isla Racha, a sólo 12 kilómetros al sur de Phuket, a sólo 35 minutos en lancha desde el muelle de Chalong-bay. The Racha cuenta con 85 villas de lujo y se esfuerza por ser reconocido como un líder en el turismo responsable y sostenible del medio ambiente.

The Racha ha sido diseñado para mezclarse con el terreno existente de la tierra y se ha tenido cuidado para asegurarse de las 69 lujosas villas de una planta y edificios anexos no sobresalen. Leer más..
Instalaciones
Comodidades
servicios para minusválidos
ascensor
piso ejecutivo
habitación familiar
salas de reuniones
restaurante
caja fuerte en la sala
salón de belleza
tiendas
fumadores
aparcamiento
Deporte y la Recreación
bar / pub
bicicletas en alquiler
cafetería
club nocturno
bar en la piscina
jardín
campo de golf el sitio
sala de fitness
piscina cubierta
jacuzzi
club de niños
masaje
piscina al aire libre
piscina (niños)
sauna
spa
canchas de squash
sala de vapor
pistas de tenis
casino
Servicios
24hr de servicio
traslado al aeropuerto
cuidado de niños
centro de negocios
conserje
servicio de lavandería
traslado al aeropuerto
WiFi pública
LAN (gratis)
LAN (de pago)
WiFi (gratis)
servicio de habitaciones
cuna
Opiniones de los usuarios
เพ็ยศิริ..
(parejas)
(9)
30 November 2012
1. ที่พักและชายหาดสวยงามมาก 2. ตอนไปคนเข้าพักเต็ม จึงทำให้อุปกรณ์ดำน้ำไม่เพียงพอ อยากให้เพิ่มค่ะ
Tony
(otros)
(7)
30 August 2011
เป็นส่วนตัวมากสำหรับที่นี้ ผมชอบน่ะ แต่ติดที่ต้นไม้น้อย อากาศร้อนมาก โดยรวม ผมให้ 3 ดาวครับ