Summitra Pavilion Villa No. 3
59/64 Moo 5, Plailaem Soi 6, Choeng Mon, Koh Samui,, Suratthani, 84140 (0 Revisión)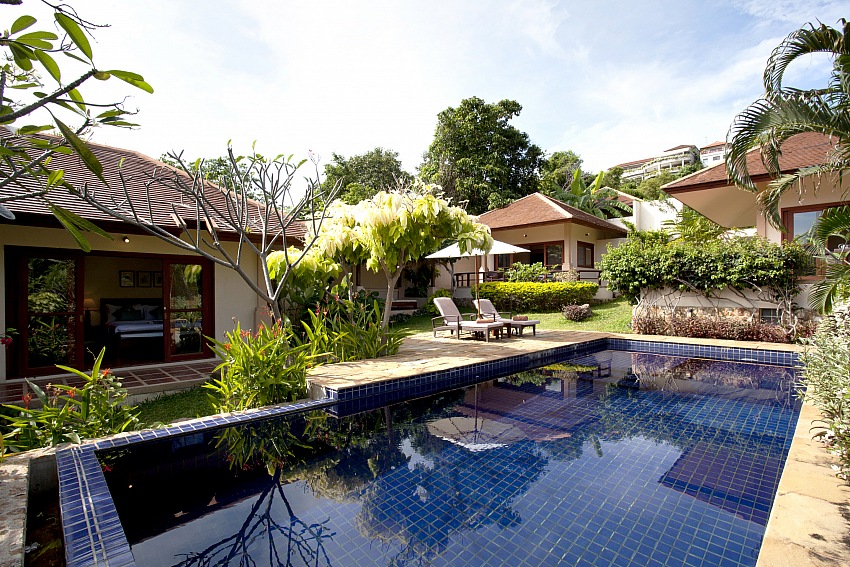 ¿Qué están diciendo los invitados?:
Lo sentimos, no hay habitaciones disponibles. póngase en contacto con nosotros para obtener más información o reservar los otros períodos en su lugar.
Detalle
Summitra Pavilion Villa 3 Located at 59/64 Moo 5, Plailaem Soi 6, Choeng Mon, Koh Samui. This villa located in Choeng Mon Beach, short distance from Choeng Mon Beach, 10 minute from Samui airport. 10 minutes from Golden Buddha Temple and temple around the area.

Summitra Pavilion Villa 3 offers 3-bedroom & 3-bathroom, accommodating up to 6 people. The living area has a flat screen television and CD Player, WiFi and 24/7 security etc. The kitchen has fully equipped. Dining areas have indoor dining areas and outdoor dining terrace. There are many facilities in this villa such as Private swimming pool, tennis court, Beautifully landscaped garden. Leer más..
Instalaciones
Comodidades
servicios para minusválidos
ascensor
piso ejecutivo
habitación familiar
salas de reuniones
restaurante
caja fuerte en la sala
salón de belleza
tiendas
fumadores
aparcamiento
Deporte y la Recreación
bar / pub
bicicletas en alquiler
cafetería
club nocturno
bar en la piscina
jardín
campo de golf el sitio
sala de fitness
piscina cubierta
jacuzzi
club de niños
masaje
piscina al aire libre
piscina (niños)
sauna
spa
canchas de squash
sala de vapor
pistas de tenis
casino
Servicios
24hr de servicio
traslado al aeropuerto
cuidado de niños
centro de negocios
conserje
servicio de lavandería
traslado al aeropuerto
WiFi pública
LAN (gratis)
LAN (de pago)
WiFi (gratis)
servicio de habitaciones
cuna
Opiniones de los usuarios