The Sea Cret Hua Hin
1/9 Soi Hua Hin 75/2, T. Nonggae, A. Hua Hin, Prachuabkhirikhan, 77220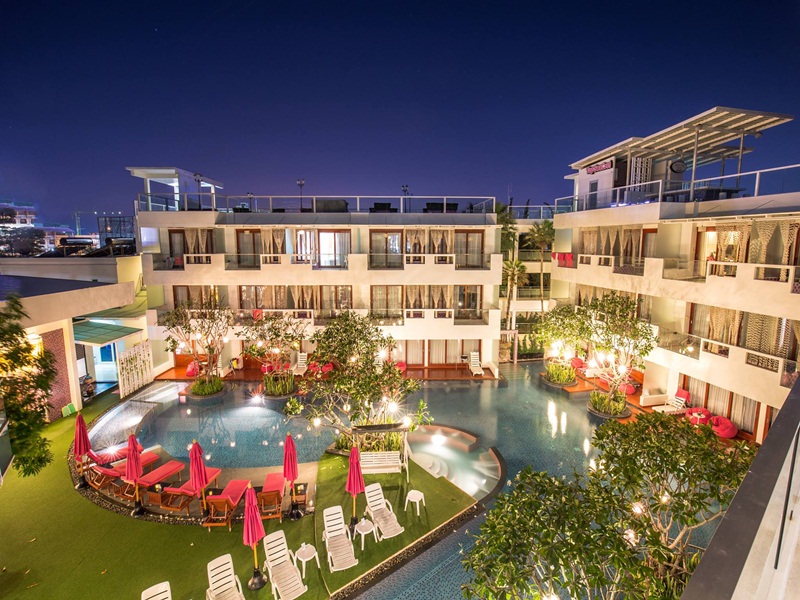 What are the Guests saying?:
10
"ชอบมากเลยค่ะ จะไปอีกครั้งค่ะ"
มิ้นท์
8.8
"สถานที่สวย ตกแต่งน่ารักมีสไตล์ เหมาะแก่การพักผ่อน ห้องพักสะดวกสบาย สระว่ายน้ำสวยมาก อาหารเช้าอร่อย "
พีระพรรณ
8.6
"โรงแรม สวย เงียบ ไม่พลุกพล่าน ชายหาดก็เดินไปได้ภายใน 3 นาที Front พนักงาน ไม่ค่อยรับแขก service ไม่ค่อยดี. พูดจาห้วนๆ แทนที่เป็นโรงแรมเล็กๆ จะทำ good service ให้ลูกค้าประทับใจ. "
กฤษณ์
8.6
"ห้องพักสวยมากเลย ไปกันหลายคนสนุกมาก สระว่ายน้ำไม่ใหญ่มากแต่วันที่ไปคนอื่นไม่ค่อยเล่นเลยสบาย อาหารอร่อยค่ะ เหมาะสำหรับคนที่เบื่อห้องพักแบบเดิมๆ"
Katesdaporn
8.6
"ต้องเดินไปก่อนจะถึงชายหาด ทางเข้ารีสอร์ทเล็กหายาก ควรมีป้ายบอก แต่อย่างอื่นผมประทับใจครับ"
K.Jakkrit
Detail
The Sea Cret Hua Hin situated at 1/9 Soi Hua Hin 75/2, T. Nonggae, A. Hua Hin. Is less than half a kilometer from shops and restaurants at Hua Hin Market Village. It is a 10-minute drive from Hua Hin Airport.

"The Sea-Cret Hua Hin" offers 31 Deluxe and 4 suites offering unique interior decoration each room to be a classy and contemporary lifestyle destination. Each spacious rooms are equipped with a flat-screen cable TV, DVD player. Fitted with dark wood furnishings, and come with a minibar, tea/coffee making facilities and a personal safe. The resort also provides barbecue facilities, laundry services, Spa, Room Service, 24-Hour Front Desk, Meeting/Banquet and bar. read more..
Facilities
Amenities
disabled facilities
elevator
executive floor
family room
meeting facilities
restaurant
safety box in room
salon
shops
smoking room
car park
Sport and Recreation
bar/pub
bicycle rental
coffee shop
nightclub
poolside bar
garden
golf (on site)
fitness room
indoor pool
jacuzzi
kids club
massage
outdoor pool
pool (kids)
sauna
spa
squash courts
steam room
tennis courts
casino
Services
24hr room service
car transfer
babysitting
business center
concierge
laundry service
pets allowed
tours
Wi-Fi public areas
LAN (free)
LAN (charges)
Wi-Fi (free)
room service
Wi-Fi public ares (charges)
baby cot
Customer Reviews
พีระพรรณ..
(Couples)
27 February 2014
สถานที่สวย ตกแต่งน่ารักมีสไตล์ เหมาะแก่การพักผ่อน ห้องพักสะดวกสบาย สระว่ายน้ำสวยมาก อาหารเช้าอร่อย
สาธิต
(Families)
27 December 2013
พนักงานบริการดี พูดจาไพเราะ ห้องพักสะอาด อาหารมีให้เลือกหลากหลายค่ะแต่ติดตรงที่ทางเข้าแคบไปหน่อย
มิ้นท์
(Couples)
3 September 2013
ชอบมากเลยค่ะ จะไปอีกครั้งค่ะ
Aphiradee
(Single Occupancy)
19 June 2013
รีสอร์ทตกแต่งในโทนหวาน สวยดี ถ้ามี service mind กว่านี้จะดีมาก
Suthada
(Couples)
19 May 2013
ทางเข้าค่อนข้างแคบเล็กมาก แต่พอเข้าไปถึงตรงล็อบบี้ก็จะเห็นบรรยากาศภายในรีสอร์ทดูสบายตา โรงแรมสวย น่ารักดี สระว่ายน้ำใหญ่สะอาดมาก แต่ควรปรับปรุงเรื่องอาหารเช้าไม่ค่อยดีเลย
K.Jakkrit
(Couples)
13 January 2013
ต้องเดินไปก่อนจะถึงชายหาด ทางเข้ารีสอร์ทเล็กหายาก ควรมีป้ายบอก แต่อย่างอื่นผมประทับใจครับ
กฤษณ์
(Couples)
1 January 2013
โรงแรม สวย เงียบ ไม่พลุกพล่าน ชายหาดก็เดินไปได้ภายใน 3 นาที Front พนักงาน ไม่ค่อยรับแขก service ไม่ค่อยดี. พูดจาห้วนๆ แทนที่เป็นโรงแรมเล็กๆ จะทำ good service ให้ลูกค้าประทับใจ.
Katesdaporn
(Families)
26 September 2012
ห้องพักสวยมากเลย ไปกันหลายคนสนุกมาก สระว่ายน้ำไม่ใหญ่มากแต่วันที่ไปคนอื่นไม่ค่อยเล่นเลยสบาย อาหารอร่อยค่ะ เหมาะสำหรับคนที่เบื่อห้องพักแบบเดิมๆ
Chakkrawut
(Couples)
9 August 2012
1._ผมเลือกที่นี่เพราะอ่าง Jacuzzi แบบ Outdoor เนื่องจากต้องการพักผ่อนแบบสบายๆกับแฟน แต่รู้สึกผิดหวังนะครับ กับบริการส่วนนี้ ต้องปรับปรุงอย่างมาก ทั้งสภาพอ่าง ระบบปั้มท์น้ำที่เสียงดัง ทำฝาปิดปั๊มไม่เรียบร้อย รั้วไม้แห้งๆที่ทำกั้นไว้ไม่สร้างบรรยากาศที่ดีเท่าไหร่ ต้องแ้ไขด่วน บรรยากาศopen ok แต่ไม่ค่อยส่วนตัวมากนักเหมือนที่คิด 2. สวนจัดได้สวยดี แต่ไม่ควรมีดอกไม้พลาสติกครับ ทำให้ลดความสวยงามของธรรมชาติลงไปเยอะมาก 3. no smoking ควรปฏิบัติทั้งผู้พักและพนักงาน 4. เก้าอี้นั่งในสวน ต้องเช็ดบ่อยๆนะครับ 5. ชอบทางเดินไม้ออกไปชายทะเลด้านหลัง แต่มีบางส่วนเริ่มชำรุดแล้ว ควรซ่อมให้เรียบร้อย
Tuang
(Single Occupancy)
13 June 2012
We did enjoy when we stay there but there's one thing which shouldn't happened. After we check-in and rest in the room about 10 minutes, We have found a big Cockroach at the wall of the room!! This was unacceptable for the cleanliness. We called the front desk and they asked the maid to get it off but didnt mention about changinf room for us.
read more