Sita Beach Resort & Spa
149-170 Moo 7, Koh Lipe, T. Koh Sarai, A. Muang, Satun, 91000 (3 Review)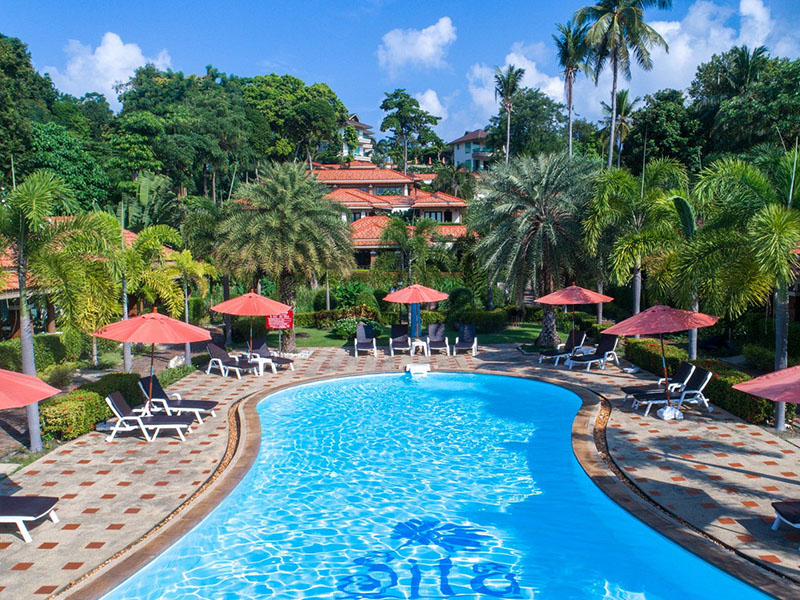 What are the Guests saying?:
10
"ประทับใจมากครับ รีสอร์ทสวยมาก ห้องพักก็มีสิ่งอำนวยควาสะดวกครบ แล้วที่ประทับใจมากคือตอนที่ไป เกิด after chock ที่ภูเก็ต แต่ผมไปหลีเป๊ะ เกี่ยวกันรึเปล่าไม่รู้แต่กลัวไว้ก่อนเพราะห้องที่ผมจองเป็นห้องหน้าหาด ผมก็เลยซื้ออีกห้องนึงเพิ่มที่อยู่บนเขาเพราะกลัว (ยอมจ่ายเพิ่ม)พนักงานก็บริการเอาอาหารมาส่งให้ถึงที่ พอตอน Check out ปรากฎว่าเค้าไม่คิดค่าห้องเพิ่มแล้วก็ไม่เก็บค่ามินิบาร์ด้วย แบบว่าประทับใจจริง ๆ ถ้ามีวันหยุดยาว ๆ ก็จะไปที่นี่อีกครับ"
Siriyut
10
"หาดสวยน้ำใส พนักงานบริการดีมาก ห้องกว้างสะอาดสวย แต่ถ้าพักบนตึกเดินไกลไปหน่อย อาหารราคาสูงไปหน่อย โดยรวมโอเคเลยค่ะ อาหารเช้าหลากหลาย"
ยุทธนา
9.2
"ที่พักดีค่ะ แต่ห้อวบีชฟร้อนจะไม่ค่อยเห็นทะเล มีต้นไม้บังเลยเห็นทะเลไม่ชัดมากค่ะ อาหารโอเคค่ะ wifi ใช้เฉพาะตรงล๊อบบี้ ห้องอยู่ใกล้ล๊อบบี้ wifi แต่ก็ยังใช้ไม่ได้"
จิโรจน์
Detail
Sita Beach Resort & Spa is located on the southwest coast of the island of Ko Lipe.

Sita Beach Resort & Spa, its mixed classical in style in a paradise of relaxing garden, surrounded by coconut tree and crystal clear water, white sand beaches.

Every room types are have air conditioning, hair dryer, internet access (wireless), internet access, in room safe, television LCD/ plasma screen, bathtub, separate shower and tub. And our amenities consist of restaurant, beach bar, spa & massage, and outdoor swimming pool. read more..
Facilities
Amenities
disabled facilities
elevator
executive floor
family room
meeting facilities
restaurant
safety box in room
salon
shops
smoking room
car park
Sport and Recreation
bar/pub
bicycle rental
coffee shop
nightclub
poolside bar
garden
golf (on site)
fitness room
indoor pool
jacuzzi
kids club
massage
outdoor pool
pool (kids)
sauna
spa
squash courts
steam room
tennis courts
casino
Services
24hr room service
car transfer
babysitting
business center
concierge
laundry service
tours
Wi-Fi public areas
LAN (free)
LAN (charges)
Wi-Fi (free)
room service
Wi-Fi public ares (charges)
baby cot
Customer Reviews
จิโรจน์..
(Couples)
(9.2)
6 March 2018
ที่พักดีค่ะ แต่ห้อวบีชฟร้อนจะไม่ค่อยเห็นทะเล มีต้นไม้บังเลยเห็นทะเลไม่ชัดมากค่ะ อาหารโอเคค่ะ wifi ใช้เฉพาะตรงล๊อบบี้ ห้องอยู่ใกล้ล๊อบบี้ wifi แต่ก็ยังใช้ไม่ได้
ยุทธนา
(Couples)
(10)
3 May 2014
หาดสวยน้ำใส พนักงานบริการดีมาก ห้องกว้างสะอาดสวย แต่ถ้าพักบนตึกเดินไกลไปหน่อย อาหารราคาสูงไปหน่อย โดยรวมโอเคเลยค่ะ อาหารเช้าหลากหลาย
Siriyut
(Families)
(10)
8 May 2012
ประทับใจมากครับ รีสอร์ทสวยมาก ห้องพักก็มีสิ่งอำนวยควาสะดวกครบ แล้วที่ประทับใจมากคือตอนที่ไป เกิด after chock ที่ภูเก็ต แต่ผมไปหลีเป๊ะ เกี่ยวกันรึเปล่าไม่รู้แต่กลัวไว้ก่อนเพราะห้องที่ผมจองเป็นห้องหน้าหาด ผมก็เลยซื้ออีกห้องนึงเพิ่มที่อยู่บนเขาเพราะกลัว (ยอมจ่ายเพิ่ม)พนักงานก็บริการเอาอาหารมาส่งให้ถึงที่ พอตอน Check out ปรากฎว่าเค้าไม่คิดค่าห้องเพิ่มแล้วก็ไม่เก็บค่ามินิบาร์ด้วย แบบว่าประทับใจจริง ๆ ถ้ามีวันหยุดยาว ๆ ก็จะไปที่นี่อีกครับ