Samed Cliff Resort
100 Moo 4 T. Phe A. Muang, Rayong, 21160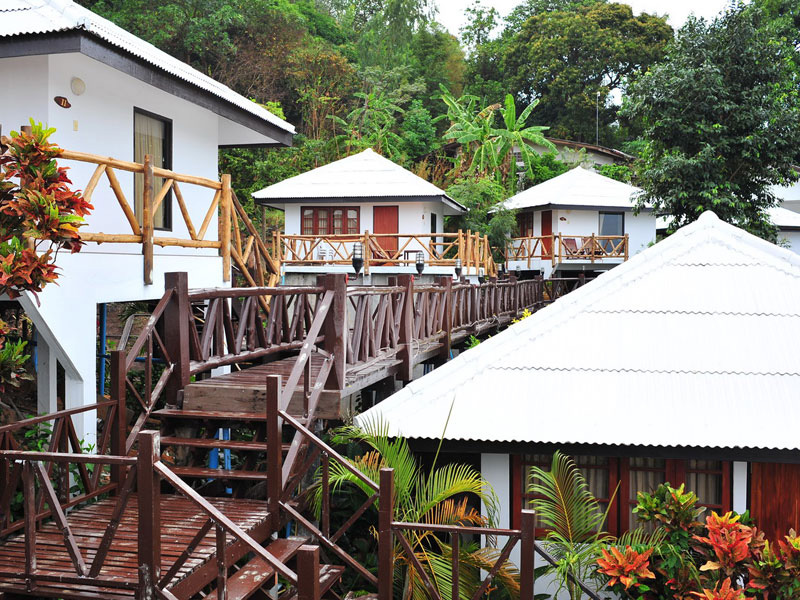 What are the Guests saying?:
9
"บรรยากาสดีมากครับ รีสอร์ทติดทะเล วิวสวย "
Wanchana
8
"ห้องพักค่อนข้างเก่า แต่บรรยายกาศดี บริการดี อาหารโอเค แต่จะติก็ต้องห้องพักอย่างเดียว"
Tiparom
8
"ห้องพักโอเค สมราคา อยู่ติดหาดค่อนข้างเงียบสงบ "
Wilasinee
8
"หาดสะอาด เงียบสงบ ห้องพักสามารเห็นวิวทะเลได้ แต่การเดินทางจะไกลหน่อย"
Pong
7.8
"รีสอร์ทมีการตกแต่งแบบเรียบๆไม่มีอะไรหรูหรามาก แต่ทำให้สบายตาดีน่ะ แล้วแต่คนชอบ ถ้ามีโอกาสคงจะกลับไปใช้บริการที่นี่อีก ส่วนเรื่องอาหาร มีหลายแบบสามารถเลือกทานได้"
บุษกร
Detail
Samed cliff Resort situated on Ao Noi Nha Beach 1.5 km away from Na Dan Pier.

Samed Cliff Resort features well-designed bungalows with a private balcony, an outdoor pool, free Wi-Fi in public areas, sunbath terrace, laundry service. There is a Thai cuisine restaurant at the resort. Each bungalow comes with air condition, a seating area and a TV. and en suite bathroom is fi tted with shower facilities.

Samed Cliff Resort presents to you a perfect, peaceful holiday place on the private beach of Ao Noi Nha, located on the North of Samed Island. It is only 1.5 km away from Na Dan Pier and 3 km away from the famous tourist attraction, Sai Kaew Beach. Samed Cliff Resort is unique in its white bungalow design, surrounded by the greens from the top of the cliff down to the sandy beach. If you take a transfer boat from Ban Phe, Rayong to Samed Island, right before reaching Na Dan Pier, you can clearly see Samed Cliff Resort from the far distance. Every one of our bungalows gives you an amazing sea view overlooking the white sand patch stretched to the horizon of Ao Noi Na which can be seen from the private terrace of your bungalow. You can walk from one bungalow to another along the wooden bridge while enjoying the beautiful sea view from the top like a romantic walk in heaven.

If you are looking for a place to relax and enjoy the nature while not missing out the spicy night life on the famous Sai Kaew beach of Samed Island. Samed Cliff Resort is truly your destination. read more..
Facilities
Amenities
disabled facilities
elevator
executive floor
family room
meeting facilities
restaurant
safety box in room
salon
shops
smoking room
car park
Sport and Recreation
bar/pub
bicycle rental
coffee shop
nightclub
poolside bar
garden
golf (on site)
fitness room
indoor pool
jacuzzi
kids club
massage
outdoor pool
pool (kids)
sauna
spa
squash courts
steam room
tennis courts
casino
Services
24hr room service
car transfer
babysitting
business center
concierge
laundry service
pets allowed
tours
Wi-Fi public areas
LAN (free)
LAN (charges)
Wi-Fi (free)
room service
Wi-Fi public ares (charges)
baby cot
Customer Reviews
Wanchana
(Families)
5 September 2017
บรรยากาสดีมากครับ รีสอร์ทติดทะเล วิวสวย
Subranee
(Single Occupancy)
19 August 2015
ห้องพักเก่า ราคาสูงไปหน่อย เเต่บรรยากาศดีมาก พนักงานบริการดีอาหารอร่อย แต่รีสอร์ทเก่าขนาดนี้ราคาน่าจะลดกว่านี้
บุษกร
(Single Occupancy)
5 May 2015
รีสอร์ทมีการตกแต่งแบบเรียบๆไม่มีอะไรหรูหรามาก แต่ทำให้สบายตาดีน่ะ แล้วแต่คนชอบ ถ้ามีโอกาสคงจะกลับไปใช้บริการที่นี่อีก ส่วนเรื่องอาหาร มีหลายแบบสามารถเลือกทานได้
สิริวรรณ..
(Single Occupancy)
26 March 2015
จะเป็นเหมือนบ้านบังกะโลค่ะ พื้นที่ของรีสอร์ทก็ดูเป็นธรรมชาติดีค่ะ เงียบสงบจริงๆค่ะ เหมาะกับการไปพักผ่อนจริงๆค่ะ
Num
(Couples)
27 February 2015
ห้องพักเห็นวิวทะเล เงียบ สงบ ถือว่าโอเคสำหรับคนที่ต้องการพักผ่อน
Wilasinee
(Others)
7 August 2014
ห้องพักโอเค สมราคา อยู่ติดหาดค่อนข้างเงียบสงบ
Pong
(Couples)
5 July 2014
หาดสะอาด เงียบสงบ ห้องพักสามารเห็นวิวทะเลได้ แต่การเดินทางจะไกลหน่อย
Bussakorn
(Families)
5 July 2014
ห้องพักสะอาด รีสอร์ทอยู่ติดหาด หาดทรายสวยแต่ไม่ค่อยเหมาะกับการเล่นน้ำ เพราะเป็นท่าเรือ
Panurut
(Couples)
20 February 2014
ห้องพักดูเก่าในห้องไม่มี Internet แต่ถ้าดูภายนอกก็ดูสวยดีโดยเฉพาะตอนพระอาทิตย์ตกดิน
Tiparom
(Single Occupancy)
27 February 2013
ห้องพักค่อนข้างเก่า แต่บรรยายกาศดี บริการดี อาหารโอเค แต่จะติก็ต้องห้องพักอย่างเดียว
read more