Pai Hotspring
84-84/1 Moo 2, T. Mae Hee, A. Pai, Maehongson, 58130 (5 Review)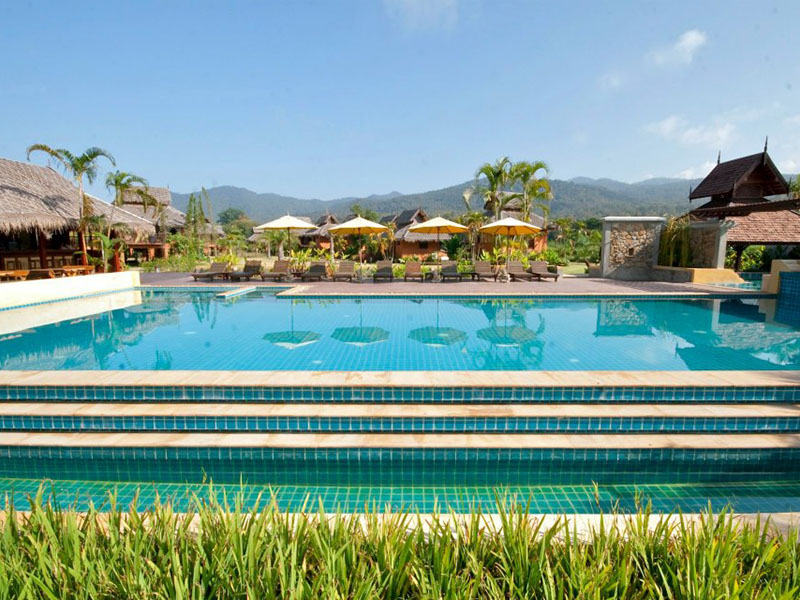 What are the Guests saying?:
10
"การบริการดี ห้องพักโอเค โรงแรมสวย ถือว่าคุ่มค่ากับเงิน ให้ 5 ดาว เพราะดีทุกอย่าง"
Taweechai
9
"ได้ไปพักมาเมื่อ ต.ค. 52 ที่ห้อง Chalet Mountain View ห้องปรับปรุงใหม่สวยหรูสะดวกสบายทีวีจอแบบ มีอ่างน้ำหน้าระเบียงด้วย แต่เปิดโล่งมากไป ไม่ค่อยส่วนตัวเท่าไร ติดใจตรงบรรยากาศท้องทุ่งที่นี่"
Jirapong
8.6
"รีสอร์ทสวย บริการดีมาก บรรยากาศก็ดี มีโอกาสหน้าจะกลับไปพักอีก"
สุภาวดี
8
" การบริการดี ห้องพักมืดไฟสว่าง วันที่ 2 ไฟดับทั้งวัน ห้องไม่เก็บเสียงเท่าสไหร่ ได้ยินเสียงข้างห้องคุยกัน บ่อแช่น่าจะมีตัวช่วยไล่ยุงหน่อยยุงเยอะ ต้องไปซื้อมาจุดเอง โดยรวมก็ดี วิวสวย "
Adisak
7
"ไปพักช่วงปีใหม่ อากาศเย็นๆ มีบ่อน้ำร้อนให้แช่น้ำอุ่นๆสบายตัวจริงๆ โดยเฉพาะอากาศยามเช้าเย็นสดชื่น ที่พักสะอาด"
Pawinee
Detail
Pai Hotspring Spa Resort offers hotspring public pools and overnight guestrooms with mineral spring water piped into each bathroom. Our guests can enjoy soaking in private-room tubs or in public pools. All the hotspring bathing features modern facilities and marvelously services.

Pai Hotspring Spa Resort features 68 rooms equipped with modern facilities such as mini bar, tea and coffee making facilities, internet, satellite TV and (for Chalet category) a private balcony. You can also enjoy soaking in mineral hotspring pools, or known as "On-sen" in Japanese, for your utmost comfort. There are three different room characters available to serve your preference.

an oriental chalet styled resort, sits on the riverbank of Pai, a boutique town in Mae Hong Son province of Northern Thailand, where noise and city chaos are absolutely in absence behind the green hills of Mae Hong Sorn allowing only fresh and pure air from surrounding mountain forests to pass through.

This oriental relaxing resort lies in the cuddle of mountains and green forest and uniquely provides mineral hotspring water . Overwhelmed in the most unwinding moment with pure hotspring pools.

Pai Hotspring Spa Resort is by far unparalleled hideaway for those in search of tranquility and private gateway amidst the serene nature in Northern Thailand. read more..
Facilities
Amenities
disabled facilities
elevator
executive floor
family room
meeting facilities
restaurant
safety box in room
salon
shops
smoking room
car park
Sport and Recreation
bar/pub
bicycle rental
coffee shop
nightclub
poolside bar
garden
golf (on site)
fitness room
indoor pool
jacuzzi
kids club
massage
outdoor pool
pool (kids)
sauna
spa
squash courts
steam room
tennis courts
casino
Services
24hr room service
car transfer
babysitting
business center
concierge
laundry service
tours
Wi-Fi public areas
LAN (free)
LAN (charges)
Wi-Fi (free)
room service
Wi-Fi public ares (charges)
baby cot
Customer Reviews
Adisak
(Single Occupancy)
(8)
20 December 2021
การบริการดี ห้องพักมืดไฟสว่าง วันที่ 2 ไฟดับทั้งวัน ห้องไม่เก็บเสียงเท่าสไหร่ ได้ยินเสียงข้างห้องคุยกัน บ่อแช่น่าจะมีตัวช่วยไล่ยุงหน่อยยุงเยอะ ต้องไปซื้อมาจุดเอง โดยรวมก็ดี วิวสวย
Taweechai
(Single Occupancy)
(10)
20 December 2021
การบริการดี ห้องพักโอเค โรงแรมสวย ถือว่าคุ่มค่ากับเงิน ให้ 5 ดาว เพราะดีทุกอย่าง
สุภาวดี..
(Single Occupancy)
(8.6)
2 February 2014
รีสอร์ทสวย บริการดีมาก บรรยากาศก็ดี มีโอกาสหน้าจะกลับไปพักอีก
Pawinee
(Others)
(7)
19 August 2011
ไปพักช่วงปีใหม่ อากาศเย็นๆ มีบ่อน้ำร้อนให้แช่น้ำอุ่นๆสบายตัวจริงๆ โดยเฉพาะอากาศยามเช้าเย็นสดชื่น ที่พักสะอาด
Jirapong
(Others)
(9)
16 August 2011
ได้ไปพักมาเมื่อ ต.ค. 52 ที่ห้อง Chalet Mountain View ห้องปรับปรุงใหม่สวยหรูสะดวกสบายทีวีจอแบบ มีอ่างน้ำหน้าระเบียงด้วย แต่เปิดโล่งมากไป ไม่ค่อยส่วนตัวเท่าไร ติดใจตรงบรรยากาศท้องทุ่งที่นี่