Koh Mook Sivalai Beach Resort
211/1 Moo. 2 Koh Mook, T. Libong, A. Kantang, Trang, 92110 (5 Review)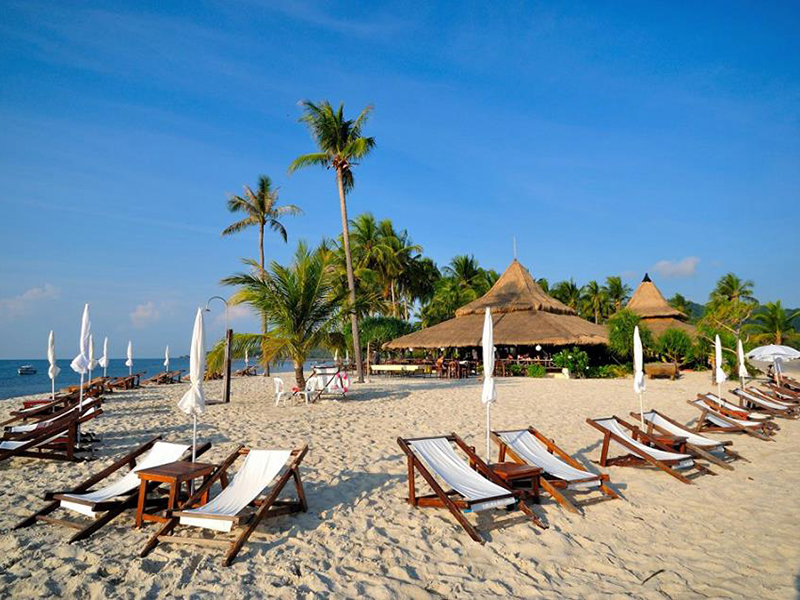 What are the Guests saying?:
9.2
"ทำเลที่ตั้งดีมากเลยคะ ชอบที่ติดหาด พนักงานบริการโอเคคะอาหารก็ใช้ได้คะ ห้องพักสะอาดบรรยากาศดีคะ"
.สิริวิมล
9
"ทำเลที่ตั้งดีค่ะ บรรยากาศดีห้องพักติดทะเล แต่รู้สึกว่าค่าห้องจะแพงไป ไม่ค่อยสมราคา เท่าไร อาจะเป้นเพราะว่าเราไปช่วง ปีใหม่ ก็เลยรู้สึกว่ามันแพงมาก ใกล้ ๆ หาของกินยากไปหน่อยไม่มีร้ายอาหารอื่นเลย ต้องทานแต่ในรีสอร์ทอย่างเดียว แต่โดยรวมถือว่าโอเค ค่ะ "
Siripan
8.8
"ชอบมากคับ เป้นรีสอร์ทที่สวยที่สุดในเกาะมุกเลยกว่าได้ เพราะทำเลอยุ่ตรงแหลมพอดี เลยเหมือนกับเราอยุ่กลางทะเล ชอบมากก อาหารเช้าก็อร่อยคับ แต่ร้านอาหารแถวนั้นจะไม่มีให้เลือกเยอะเท่าไร"
ภวรัญชน์
7.4
"พนักงานเป็นมิตรมาก ห้องพักสวยงาม วิวทะเล สงบ เหมาะแก่การหลีกหนีความวุ่นวายเพื่อพักผ่อน ข้อด้อยคือทะเลไม่น่าเล่นเท่าไหร่เนื่องจากเป็นดินโคลน "
กาญจนา
7
"ที่นี่สวยมาก ๆ ห้องพักที่ไปนอนมาเป็นห้อง Family Seaview ติดหน้าเลย แบบว่ากินเหล้าหน้าหาด และ ลงน้ำได้เลยอ่ะ เพราะ location ที่นี่เห็นทะเลทั้ง 2 ด้าน และยังมีกิจกรรมทางน้ำเยอะมากด้วย เช่น มี พายเรือคายัคให้ฟรี, สระว่ายน้ำ, วอลเล่ยฺบอลชายหาด, สปา, ชิงช้าริมหาด สุดยอดอ่ะ ต้องไปอีกให้ได้"
Detail
Koh Mook Sivalai Beach Resort - The legendary warm welcome of its local population, the extreme beauty of its long white sand beaches, and its pristine clear water rich in aquatic life, make Mook Island a "must-see" place to stay in Trang Province.

Koh Mook Sivalai Beach resort offers 37 unique individual air conditioned and Electric water heater villas on the beach. Koh Moo k Sivalai is surrounded by amazing tropical nature. Each villa at Koh Mook Sivalai Beach Resort has air conditioning. All also include satellite TV and free bathroom amenities. read more..
Facilities
Amenities
disabled facilities
elevator
executive floor
family room
meeting facilities
restaurant
safety box in room
salon
shops
smoking room
car park
Sport and Recreation
bar/pub
bicycle rental
coffee shop
nightclub
poolside bar
garden
golf (on site)
fitness room
indoor pool
jacuzzi
kids club
massage
outdoor pool
pool (kids)
sauna
spa
squash courts
steam room
tennis courts
casino
Services
24hr room service
car transfer
babysitting
business center
concierge
laundry service
pets allowed
tours
Wi-Fi public areas
LAN (free)
LAN (charges)
Wi-Fi (free)
room service
Wi-Fi public ares (charges)
baby cot
Customer Reviews
.สิริวิมล ..
(Couples)
6 June 2017
ทำเลที่ตั้งดีมากเลยคะ ชอบที่ติดหาด พนักงานบริการโอเคคะอาหารก็ใช้ได้คะ ห้องพักสะอาดบรรยากาศดีคะ
Siripan
(Families)
3 January 2017
ทำเลที่ตั้งดีค่ะ บรรยากาศดีห้องพักติดทะเล แต่รู้สึกว่าค่าห้องจะแพงไป ไม่ค่อยสมราคา เท่าไร อาจะเป้นเพราะว่าเราไปช่วง ปีใหม่ ก็เลยรู้สึกว่ามันแพงมาก ใกล้ ๆ หาของกินยากไปหน่อยไม่มีร้ายอาหารอื่นเลย ต้องทานแต่ในรีสอร์ทอย่างเดียว แต่โดยรวมถือว่าโอเค ค่ะ
ภวรัญชน์ ..
(Families)
25 June 2016
ชอบมากคับ เป้นรีสอร์ทที่สวยที่สุดในเกาะมุกเลยกว่าได้ เพราะทำเลอยุ่ตรงแหลมพอดี เลยเหมือนกับเราอยุ่กลางทะเล ชอบมากก อาหารเช้าก็อร่อยคับ แต่ร้านอาหารแถวนั้นจะไม่มีให้เลือกเยอะเท่าไร
กาญจนา
(Couples)
3 May 2014
พนักงานเป็นมิตรมาก ห้องพักสวยงาม วิวทะเล สงบ เหมาะแก่การหลีกหนีความวุ่นวายเพื่อพักผ่อน ข้อด้อยคือทะเลไม่น่าเล่นเท่าไหร่เนื่องจากเป็นดินโคลน
(Others)
19 August 2011
ที่นี่สวยมาก ๆ ห้องพักที่ไปนอนมาเป็นห้อง Family Seaview ติดหน้าเลย แบบว่ากินเหล้าหน้าหาด และ ลงน้ำได้เลยอ่ะ เพราะ location ที่นี่เห็นทะเลทั้ง 2 ด้าน และยังมีกิจกรรมทางน้ำเยอะมากด้วย เช่น มี พายเรือคายัคให้ฟรี, สระว่ายน้ำ, วอลเล่ยฺบอลชายหาด, สปา, ชิงช้าริมหาด สุดยอดอ่ะ ต้องไปอีกให้ได้