Kabantamor Residence
44/200 Soi Moobaan Hua na, Nongkae, Hua Hin , Prachuabkhirikhan, 77110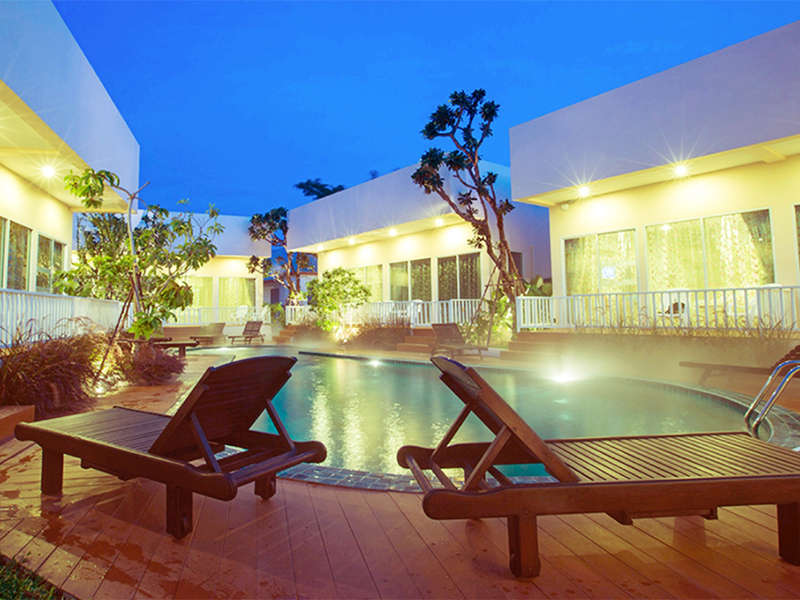 What are the Guests saying?:
10
"บ้านพักถูกใจมากครับ สะอาด บรรยากาศดีมากๆ ครับ โอกาสหน้ามาอีกแน่นอนครับ ขอบคุณสำหรับอาหารเช้าอันแสนอร่อยครับ"
ปลื้ม
10
"เข้าพักแล้วไม่ผิดหวัง บ้านดูแลดีห้องทุกห้องฉีดสเปรย์ให้ความหอมสดชื่นทุกห้อง ที่พักสะอาด ยันห้องครัวค่ะ บ้านพักส่วนตัว บรรยากาศดี เงียบสงบ ไม่วุ่นวาย เป็นบ้านสำหรับพักผ่อนจริงๆค่ะ พนักงานมีความเป็นกันเองมากๆค่ะ สังสรรค์กับครอบครัว ใช้บริการที่นี่ตลอดค่ะ ติดใจในความสะอาด ความเป็นส่วนตัว และบรรยากาศที่พักมากๆค่ะ"
เมย์
9.2
"อาหารเช้ามีน้อยมาก ที่ตั้งของรีสอร์ทตั้งใกล้หาดบรรยากาศดี พนักงานอาจจะน้อยเวลาสอบถามข้อมูลต่าง ๆ ได้รับคำตอบช้ามาก โดยรวมของที่นี้ดีค่ะ"
อรัญญา
9
"บริการดีมากครับ ประทับใจมาก โรงแรมอยู่ในซอย102 ลึกหน่อยไม่ติดทะเล บรรยากาศโดยรวมดีครับ สระว่ายน้ำอยู่ตรงกลางห้องสะอาดดีครับ สิ่งอำนวยความสะดวกพร้อม อาหารเช้าเป็นข้าวต้มครับ และก็ขนมปัง กาแฟ ครับ โดยรวมดีครับ"
Supachart
7.6
"ห้องน่ารักครับ บรรยายกาศก็ธรรมชาติดี รวมๆก็ถือว่าโอเค"
Ratchapol
Detail
Kabantamor Residence comprise of 8 cozy rooms clustered around swimming pool Relaxing ambient with manmade mist throughout the whole property. Enjoy DIY activities to spend your valuable time with your own unique design from ready to make materials.

Kabantamor Residence … has 4 one storey buildings, each has 2 adjacent rooms. Each room has King-size bed where we can p ut 1 extra single moveable bed for the third guest in each room per preference. Each room provides all basic convenience accessories i.e. TV with local cable, refrigerator 5 cu.ft., safe deposit box in room, blow dryer, mini-bar and small coffee table.

Krua Chomsupak at Kabantamor Residence … cooking meticulously of Thai food, sea foods as well as buffet selection with menu provided at your preference. read more..
Facilities
Amenities
disabled facilities
elevator
executive floor
family room
meeting facilities
restaurant
safety box in room
salon
shops
smoking room
car park
Sport and Recreation
bar/pub
bicycle rental
coffee shop
nightclub
poolside bar
garden
golf (on site)
fitness room
indoor pool
jacuzzi
kids club
massage
outdoor pool
pool (kids)
sauna
spa
squash courts
steam room
tennis courts
casino
Services
24hr room service
car transfer
babysitting
business center
concierge
laundry service
pets allowed
tours
Wi-Fi public areas
LAN (free)
LAN (charges)
Wi-Fi (free)
room service
Wi-Fi public ares (charges)
baby cot
Customer Reviews
ปลื้ม
(Families)
3 January 2019
บ้านพักถูกใจมากครับ สะอาด บรรยากาศดีมากๆ ครับ โอกาสหน้ามาอีกแน่นอนครับ ขอบคุณสำหรับอาหารเช้าอันแสนอร่อยครับ
เมย์
(Families)
1 January 2019
เข้าพักแล้วไม่ผิดหวัง บ้านดูแลดีห้องทุกห้องฉีดสเปรย์ให้ความหอมสดชื่นทุกห้อง ที่พักสะอาด ยันห้องครัวค่ะ บ้านพักส่วนตัว บรรยากาศดี เงียบสงบ ไม่วุ่นวาย เป็นบ้านสำหรับพักผ่อนจริงๆค่ะ พนักงานมีความเป็นกันเองมากๆค่ะ สังสรรค์กับครอบครัว ใช้บริการที่นี่ตลอดค่ะ ติดใจในความสะอาด ความเป็นส่วนตัว และบรรยากาศที่พักมากๆค่ะ
Supachart
(Single Occupancy)
22 May 2015
บริการดีมากครับ ประทับใจมาก โรงแรมอยู่ในซอย102 ลึกหน่อยไม่ติดทะเล บรรยากาศโดยรวมดีครับ สระว่ายน้ำอยู่ตรงกลางห้องสะอาดดีครับ สิ่งอำนวยความสะดวกพร้อม อาหารเช้าเป็นข้าวต้มครับ และก็ขนมปัง กาแฟ ครับ โดยรวมดีครับ
Ratchapol
(Couples)
22 September 2012
ห้องน่ารักครับ บรรยายกาศก็ธรรมชาติดี รวมๆก็ถือว่าโอเค
อรัญญา
(Couples)
29 July 2012
อาหารเช้ามีน้อยมาก ที่ตั้งของรีสอร์ทตั้งใกล้หาดบรรยากาศดี พนักงานอาจจะน้อยเวลาสอบถามข้อมูลต่าง ๆ ได้รับคำตอบช้ามาก โดยรวมของที่นี้ดีค่ะ