Koh Mook Charlie Beach Resort
164 Moo 2, Koh Mook, A. Kantang, Trang, 92110 (27 Überprüfung)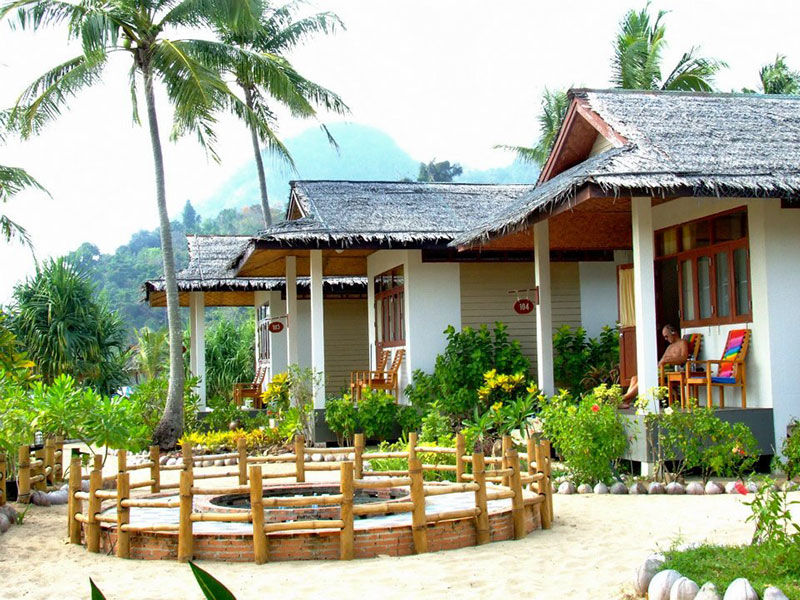 Was sagen die Gäste?:
9.8
"nice locaton, lovely room but less of menu at restaurant"
Pilada
9.6
"There's a great location and lovely staff. "
Liv Lange Rohrer
9.2
"We will come back to Charlie beach hotell. Thank you for a wounderful week!!"
Margareta Johansson
9
"We stayed in a bungalow was smallish but nice. Beautiful private beach"
Remo
8.8
"Best option on the island since it's comfortabe."
Magarette
Detail
Koh Mook Charlie Beach Resort liegt an der Westseite von Koh Mook, bemerkenswert mit weißem Sandstrand, tropische Landschaft umgeben, kristallklares Wasser mit Sonne-set Atmosphäre. Koh Mook Charlie Beach bietet eine Reihe von Bungalows, die teilweise aus Bambus. Ausgestattet wahlweise mit Ventilator oder Klimaanlage, alle mit einem Kühlschrank ausgestattet. Die Badezimmer sind entweder geteilt oder privat, und ausgestattet mit Dusche. mehr lesen..
Anlagen
Annehmlichkeit
behindertengerecht
aufzug
executive-Etage
familienzimmer
Tagungsräume
restaurant
safe im zimmer
salon
geschäfte
raucherzimmer
parkplatz
Sport und Erholung
bar / pub
fahrradverleih
coffee-shop
nachtclub
poolbar
garten
golfplatz (vor Ort)
fitness-raum
hallenbad
jacuzzi
kids-club
massage
freibad
pool (kinder)
sauna
spa
squash-courts
dampfbad
tennisplätze
kasino
Dienstleistungen
24 stunden service
flughafen-Transfer
babysitting
geschäftszentrum
portier
wäscheservice
haustiere erlaubt
touren
WiFi öffentlichen
LAN (Kostenlos)
LAN (Gebühren)
WiFi (Kostenlos)
Zimmerservice
babybett
Kundenrezensionen
อัศณีย์..
(Andere)
30 December 2014
ห้องพักสะดวก สบายเหมาะกับราคา เงียบสงบ ติดชายหาด เหมาะกับทั้งเที่ยวเป็นกลุ่มกับเพื่อน หรือฮันนีมูน
Martin
(Paare)
1 April 2014
Very relaxing, good buffet breakfast,Cleaning and new towels every day.
Karlsson Mats
(Paare)
1 April 2014
The hotel is good location and staff is very good service. The food is very fantastic.
Joanna Zeppelin
(Paare)
31 March 2014
Very nice resort, cheap and Lovely garden, near everything! Big pool and 1 recommended this resort! Good food and nice staff!
Sandra Nilsson
(Einzelnutzung)
10 March 2014
We got to stay in a bamboo instead. Then we didn't get any wifi on the entire stay and no one could help us fix it so didn't get what we paid for. And I got really sick from the food one day.
Lars Birkholm
(Paare)
31 January 2014
big resort with a lovely beach.
Jens fast
(Paare)
20 January 2014
We had some very nice days at Koh Mook, We arrived by ferry and were happy that our resort was a few steps away, Charlie Beach has the best location on the beach. We enjoyed the pool, the beach, the lunch bar at the beach and the nice restaurant sitting with your feet in the sand. Emerald cave was a fasinating nature adventure.
Pichapa
(Paare)
1 August 2013
โดยรวมๆ พึงพอใจมาก อยากกลับไปเที่ยวอีก อากาศดี โรแมนติก
Pilada
(Paare)
1 August 2013
nice locaton, lovely room but less of menu at restaurant
Remo
(Paare)
29 April 2013
We stayed in a bungalow was smallish but nice. Beautiful private beach
mehr lesen