P.P. Palm Tree Resort
129 Moo 7 T. Aonang A. Muang, Krabi, 81000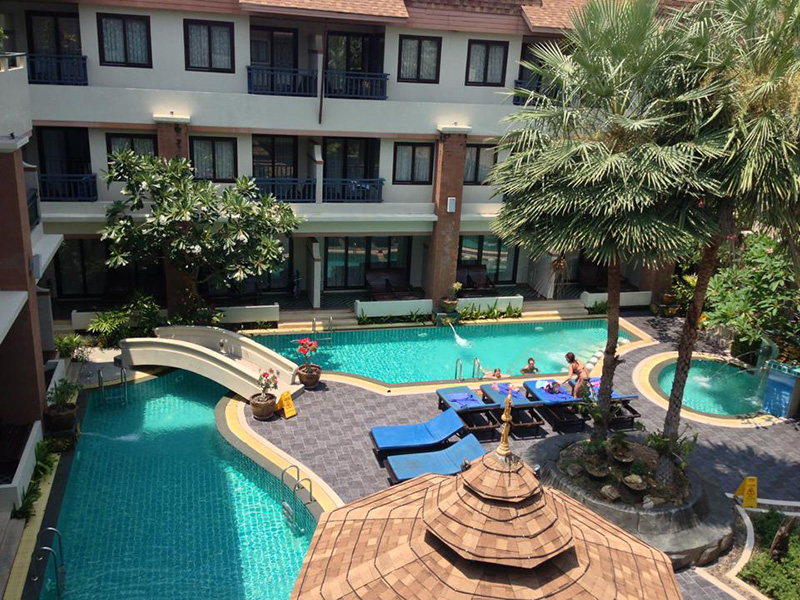 Co říkají hosté?:
10
" Perfect! Everthing was good!!"
Bowman
9.8
"Everything was perfect! The resort was splendid!"
Barbara Smet
Cristina Ionescu
9.4
"Was unhappy about not being allowed to bring a guest back at night. Other than that I was very happy with staff and facilities."
David Malone
9.4
"Perfect! The location of the hotel is good. Staff is so friendly."
Cristina
detail
PP Palm Tree Resort je moderní resort se nachází v centru ostrova. Resort nabízí celou řadu vymožeností a vybavení pro všechny hosty 40 pokojů, 3 hlavní typy pokojů Deluxe je místnost, bazén pokoji a Palm Tree Suite.
zařízení
Vybavení
bezbariérový
výtah
executive floor
rodinný pokoj
konferenční prostory
restaurace
trezor na pokoji
salon
obchody
kuřárna
parkoviště
Sport a zábava
bar / pub
půjčovna kol
coffee shop
bar
bar u bazénu
zahrada
golfové hřiště (na místě)
fitness
krytý bazén
jacuzzi
dětský klub
masáž
venkovní bazén
bazén (děti)
sauna
lázně
kurty na squash
pára
tenisové kurty
kasino
Služeb
24h pokojový servis
transfer z letiště
hlídání dětí
obchodní centrum
vrátný
prádelna / čistírna
domácí zvířata povolena
zájezdy
Wi-Fi ve veřejných prostorách
přístup k internetu - LAN
přístup k internetu - LAN (za poplatek)
přístup k internetu - bezdrátový (bez poplatků)
Pokojová služba
dětská postýlka
Hodnocení zákazníků
Stephane Kovatchev
(páry)
31 August 2015
would recommend, lovely hotel !
Jillian Sharples
(páry)
31 August 2015
The only major downfall to my stay was the bedbugs in my room. Other than that everything was great and the staff were extremely polite, helpful, and kind.
Bhupinder Purewal
(páry)
2 February 2015
Great stay here. I will definately be staying on my next trip.
Irina Hossu
(ostatní)
1 November 2014
rooms are very modern and clean.
Nicholas Tomlinson
(páry)
2 September 2014
This hotel was good value for money. The rooms were nice, good size, clean. The pool was a nice size considering the size of the hotel and also clean.
Leelawadee
(ostatní)
1 May 2014
ห้องพักและบริเวณโรงแรมสะอาด สะดวกสบายหรูหรา อยู่ในแหล่งชุมชนจึงสามารถเดินไปเที่ยวตลาด ไปชายหาดโละดาลัม ซื้อทัวร์ ไปจุดชมวิว และร้านอาหารได้สบายๆ
Yaara Raski
(páry)
1 May 2014
The rooms look newly conditioned and the hotel pool is very nice and clean. Service staff are not so freiendly and don't seems to understand english.
Huw Crwys-Williams
(páry)
1 May 2014
this is a good hotel option in phi phi, clean, spacious, nice service.
Uzi Zaray
(páry)
31 March 2014
nice balcony giving on the swimming pool,
ANTON WENTZEL
(ostatní)
31 March 2014
very good hotel. Nice rooms and pool.
Čtěte více