Koh Mook Charlie Beach Resort
164 Moo 2, Koh Mook, A. Kantang, Trang, 92110 (27 přezkoumání)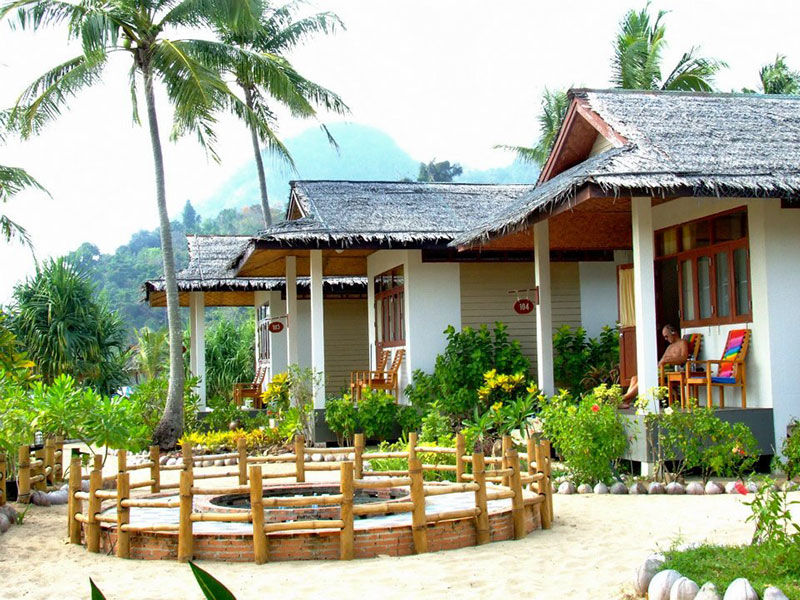 Co říkají hosté?:
9.8
"nice locaton, lovely room but less of menu at restaurant"
Pilada
9.6
"There's a great location and lovely staff. "
Liv Lange Rohrer
9.2
"We will come back to Charlie beach hotell. Thank you for a wounderful week!!"
Margareta Johansson
9
"We stayed in a bungalow was smallish but nice. Beautiful private beach"
Remo
8.8
"Best option on the island since it's comfortabe."
Magarette
detail
Koh Mook Charlie Beach Resort se nachází na západní straně KohMook, pozoruhodnou se bílé písečné pláže, obklopený tropickou krajinu, křišťálově čistá voda se sluncem nastavenou atmosférou. Koh Mook Charlie Beach nabízí řadu bungalovů, některé z bambusu. Vybaveny buď ventilátor nebo klimatizaci, všechny jsou s lednicí. Koupelny jsou buď sdílené nebo soukromé, a jsou vybaveny spr chy. Čtěte více..
zařízení
Vybavení
bezbariérový
výtah
executive floor
rodinný pokoj
konferenční prostory
restaurace
trezor na pokoji
salon
obchody
kuřárna
parkoviště
Sport a zábava
bar / pub
půjčovna kol
coffee shop
bar
bar u bazénu
zahrada
golfové hřiště (na místě)
fitness
krytý bazén
jacuzzi
dětský klub
masáž
venkovní bazén
bazén (děti)
sauna
lázně
kurty na squash
pára
tenisové kurty
kasino
Služeb
24h pokojový servis
transfer z letiště
hlídání dětí
obchodní centrum
vrátný
prádelna / čistírna
domácí zvířata povolena
zájezdy
Wi-Fi ve veřejných prostorách
přístup k internetu - LAN
přístup k internetu - LAN (za poplatek)
přístup k internetu - bezdrátový (bez poplatků)
Pokojová služba
dětská postýlka
Hodnocení zákazníků
อัศณีย์..
(ostatní)
30 December 2014
ห้องพักสะดวก สบายเหมาะกับราคา เงียบสงบ ติดชายหาด เหมาะกับทั้งเที่ยวเป็นกลุ่มกับเพื่อน หรือฮันนีมูน
Martin
(páry)
1 April 2014
Very relaxing, good buffet breakfast,Cleaning and new towels every day.
Karlsson Mats
(páry)
1 April 2014
The hotel is good location and staff is very good service. The food is very fantastic.
Joanna Zeppelin
(páry)
31 March 2014
Very nice resort, cheap and Lovely garden, near everything! Big pool and 1 recommended this resort! Good food and nice staff!
Sandra Nilsson
(Jedno obsazení)
10 March 2014
We got to stay in a bamboo instead. Then we didn't get any wifi on the entire stay and no one could help us fix it so didn't get what we paid for. And I got really sick from the food one day.
Lars Birkholm
(páry)
31 January 2014
big resort with a lovely beach.
Jens fast
(páry)
20 January 2014
We had some very nice days at Koh Mook, We arrived by ferry and were happy that our resort was a few steps away, Charlie Beach has the best location on the beach. We enjoyed the pool, the beach, the lunch bar at the beach and the nice restaurant sitting with your feet in the sand. Emerald cave was a fasinating nature adventure.
Pichapa
(páry)
1 August 2013
โดยรวมๆ พึงพอใจมาก อยากกลับไปเที่ยวอีก อากาศดี โรแมนติก
Pilada
(páry)
1 August 2013
nice locaton, lovely room but less of menu at restaurant
Remo
(páry)
29 April 2013
We stayed in a bungalow was smallish but nice. Beautiful private beach
Čtěte více