Baan Hin Sai Resort
5/5 Moo 3, Bo Phut, Chaweng Noi, Samui, Suratthani, 84320 (1 revisão)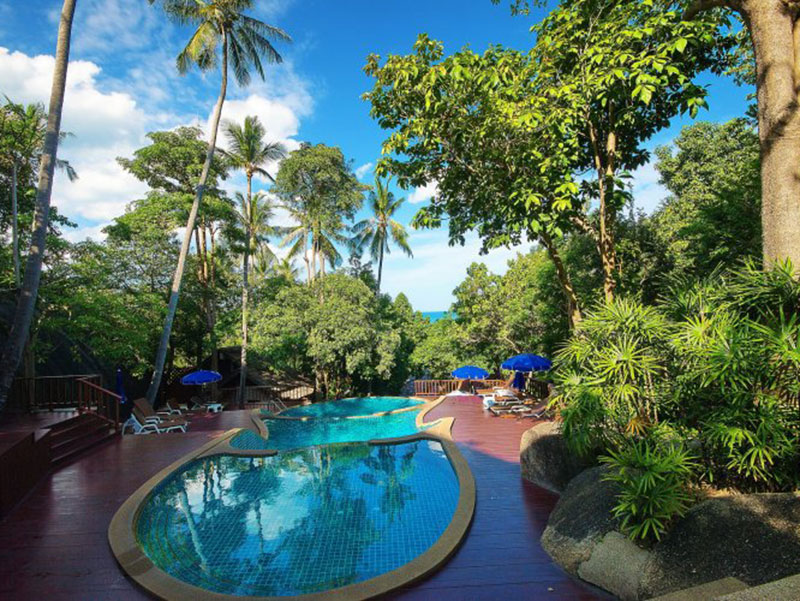 O que os convidados estão dizendo?:
10
"ที่พักดีมากครับ สวย พนักงานบริการดี ทางเข้าไปไม่ลึกมาก แต่หน้าหาดเป็นหาดหิน เดินลงทะเลจะเหนื่อยนิดนึง และเล่นน้ำไม่ได้ครับ เหมาะกับการเดินเล่นชิว ๆ ถ่ายรูปเล่น บรรยากาศดีสวยครับ"
Suwat
detalhe
Baan Hin Sai Resort & Spa is located on a rocky slope at the View Point between Chaweng and Lamai, two well-known beaches of Koh Samui. While hidden and secluded from the main tourist areas, the back of the resort is connected to the ring road of the island offering easy access to other parts in town. It is only 15 kms and a 20-minutes drive from Samui Airport.
Instalações
Amenidades
instalações para deficientes
elevador
andar executivo
quarto da família
instalações para reuniões
salão de beleza
lojas.
sala para fumantes
parque de estacionamento.
Esporte e recreação
bar / pub
aluguer de bicicletas
café
boate
bar junto à piscina
jardim
campo de golfe (no local)
sala de fitness
piscina coberta
jacuzzi
kids club
massagem
piscina ao ar livre
piscina (crianças)
sauna
spa
campos de squash
sala de vapor
quadras de tênis
Serviços
serviço de quarto 24h
transfer para o aeroporto
babysitting
centro de negócios
porteiro
serviço de lavandaria / limpeza a seco
passeios
Wi-Fi nas áreas públicas
acesso à Internet - LAN
acesso à Internet - LAN (taxas)
acesso à internet - wireless (sem taxas)
serviço de quarto
Comentários dos clientes
Suwat
(famílias)
(10)
15 May 2021
ที่พักดีมากครับ สวย พนักงานบริการดี ทางเข้าไปไม่ลึกมาก แต่หน้าหาดเป็นหาดหิน เดินลงทะเลจะเหนื่อยนิดนึง และเล่นน้ำไม่ได้ครับ เหมาะกับการเดินเล่นชิว ๆ ถ่ายรูปเล่น บรรยากาศดีสวยครับ